Makers & Tasters: An artistic dining experience
Hang on for a minute...we're trying to find some more stories you might like.
Nestled in a quaint corner of Honolulu's Fisherman's Wharf, a world of food trucks and street art coexists at the Makers & Tasters event. The food park and marketplace, as it's described, is open everyday except Sunday and attracts patrons hungry for good food and good art.
Upon entering the marketplace, savory smells of samosas and spicy naan rolls fill the air, escaping from Indian Grill's food truck. The sight of Musukawas' handmade musubis catch the attention of people's rumbling tummies. After all, these are no ordinary musubis; they're stuffed with unusual fillings, like kimchi fried rice or fried saimin.
To save patrons from the humid weather, Wow Wow Lemonade and Tea on Fleek come to the rescue, with their sweet iced confections. Wow Wow Lemonade, a fan favorite at local open markets, and new comer Tea on Fleek's indulgent local flavors offer something for all tastes.
The culinary masterminds behind the food trucks are not the only makers at this event. An artist's touch is seen in every corner–from the art on food trucks themselves to the painted mural at the entrance to the marketplace. As patrons enter the Makers & Tasters' courtyard, they are welcomed by an exuberantly colorful shed painted by the young artists of Pow! Wow! School of Art, a non-profit offering urban art workshops to local youth. The mural wisely states, "Stop wishing. Start doing," and leaves attendees feeling inspired to start making their dreams happen.
Local artists at Makers & Tasters seem to have a thing for tires, too. Painted yellow and wrapped around the courtyard, worn-down tires are adorned with long green leaves that stick out from its center, giving them a comical look–similar to a giant rubbery pineapple. In between the lime green picnic tables are rosey red umbrellas planted in pots of succulent gardens. Combined, these give new life to the once-dull Fishermen's Wharf.
Makers & Tasters is a perfect example of how art can escalate a dining experience, making it exciting for any food truck foodie. But it is the memory–and taste–of colorful local island cuisine that leaves patrons coming back for more.
About the Writer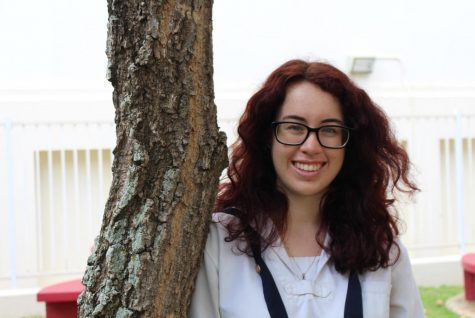 Taylor McKenzie, Webmaster, Reporter
Taylor McKenzie is currently a senior and a second-year Journalism student. She is the Vice President of Student Council, President of PAAC Club, member...