Lancers gear up for Fall sports season
As a new school year begins, Academy students are not only hitting the books but the courts and fields as well. This fall, the sports line-up consists of volleyball, cross country, kayaking, air riflery and bowling; most of which had their student athletes training hard since the beginning of summer.
Training seemed to have paid off for the varsity volleyball team, which started the season strong after becoming overall champions at the McKinley Tiger Tournament last week. During this season, they will be competing in the Interscholastic League of Honolulu (ILH) Division 1. Four-year varsity member Shalya-Ann Santos is ready for the season and says, "The next step for our team is constantly and consistently being focused before and during the game."
Focus is especially important for the riflery team, which opened up the ILH season with both a JV and varsity win over Island Pacific Academy this weekend. The season looks to be even more promising, with returning Coach Carlton Lum at the forefront. From 1999 to 2011, Lum has helped lead the team to eight team state championships and 6 individual championships. Also returning is junior Dorothy Sanidad, who is one of the state's top shooters, as well as a former state champion.
The Lancer bowling team welcomes new Head Coach Lana Mink and assistant coaches Brandon Oshiro and Jeremy Ledet. Together, they bring more than 40 years of bowling experience to the team. The bowling team is two years out from an undefeated season and an ILH championship. And with this year's returning members, they are hopeful in claiming the ILH championship title once again.
Athletic Director Ryan Hogue is also hopeful for this fall sports season. "My hope…is that our girls compete with pride as Lancers," he said. "In the very competitive ILH (league), you need to rely on your individual training, as well as the strength of your team. I hope our teams embrace the challenges that lay ahead of them and embrace a role that can (help) their team to victory."
About the Writer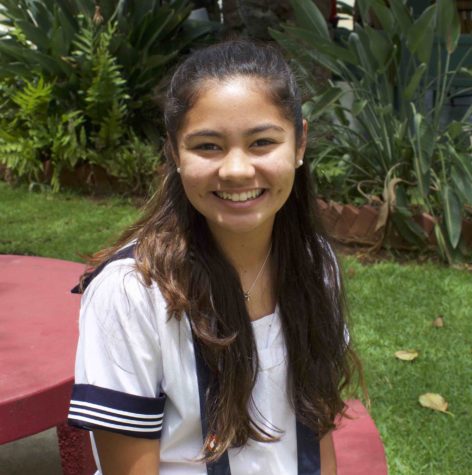 Kekaimalie Woods, Reporter
Kekaimalie Woods is currently a junior at Sacred Hearts Academy. This is her first year in Journalism. Outside of school, she plays soccer for Hawaii Surf...