Starting this year, Sacred Hearts Academy students can earn a college degree while in high school. The partnership with Chaminade University continues the tradition of making education more affordable for young women by enabling students to complete two years of college and covering the cost of tuition for those accepted into the program. 
"I come from a poor background, so of course, I was happy when I was given the opportunity to be two years ahead (in college), free of charge," junior Javilyn Francis said. 
Previously attending Waipahu High School, Francis had hoped to apply to its Early College program. What she did not expect was to have the same opportunity at the Academy.
"I thought I wasn't going to be able to achieve my goal," she said. "But little did I know, I was going to be given another shot to actually make my dreams come true."
The Academy's first Early College group started off with the juniors of the class of 2025. They took "Introduction to Expository Writing" and "First Year Experience Seminar." Both were 6-week courses completed asynchronously through a system called Canvas. Moving the class from online to in-person classes, the program invites professors to the Academy's campus so that students do not have to commute. 
Currently, they are taking Communication 101, Biology & Lab 101, History 201 and English 102.
 "Research on early college programs nationwide indicates that participating students have higher educational aspirations and persist in and complete their college programs at a higher rate," said the Academy's President Dr. Scott Schroeder. "We expect those benefits of our programs with Chaminade University, too."
According to Schroeder, the Academy began working with Chaminade in the fall of 2020. Having Chaminade professors on campus during the school day was a priority. Though there have been some challenges in starting the program, Chaminade has been a great partner school, according to Schroeder. Having the same values in regard to education and religion has allowed both Chaminade and the Academy to work together seamlessly.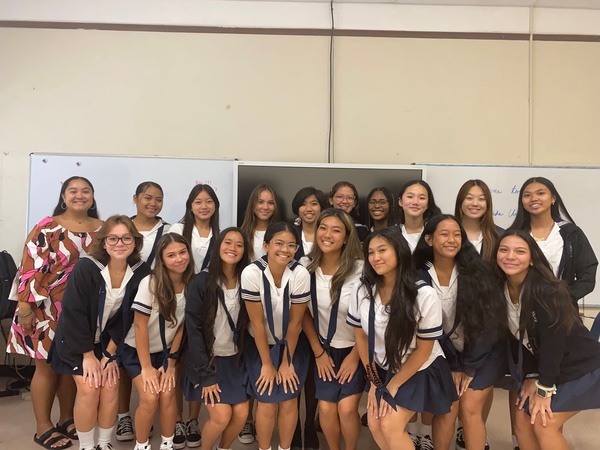 "The intention of the Early College program, whereby students can earn their high school diploma and associates degree simultaneously, is two-fold," Schroeder said.
One of the benefits includes students feeling more competent and confident in their ability to manage and succeed in college. Another benefit is that students are likely to receive one to two years of transfer credit at the university they attend. However, the granting of transfer credits will vary depending on the college chosen.
"I hope that I'll be able to inspire more girls like me to not be afraid to go for it," Francis said. "Girls that come from a poor background, first-gen(eration) girls, and the girls whose ethnic group is a minority." 
In the program, there is a diverse group of teachers with a variety of experiences and expertise, like Dr. Eva Rose B. Washburn-Repollo. She has been teaching at Chaminade for 19 years. With a doctoral degree in Curriculum and Pedagogy, Washburn-Repollo thinks that the program is an amazing opportunity for students who are advanced in high school and are willing to do the program. 
When it comes to transitioning between teaching college to teaching high school, there are some things that may need to be changed, she says. For Washburn-Repollo, she accommodated the high school students by teaching in parts and by including lots of breaks. 
"I think the number one thing that I changed is to make sure the examples are closer to the experiences of the students," Washburn-Repollo said. Understanding the importance of the material was her priority. She also wanted to understand their perspective and how the students view the world.
Though it has only been a few weeks, Washburn-Repollo already feels a sense of community. She mentions how she can sense the energy of the students wanting to be here and wanting to be with each other. 
"I wonder if the independence of older college students actually detaches them from each other. The sense of community is strong in the high school group. There's a lot of attention given to each other because you know each other and care about each other," Washburn-Repollo said. 
Program coordinators hope this program will help students to be better prepared for college, while also making it more affordable. 
With recruitment for next year's Early College group coming up in the spring, Schroeder says, "We hope that the program will continue for many years to come."