The making of a Merrie Monarch dancer
Last year, the annual Merrie Monarch Festival brought halau (schools for hula) from near and far to the Hawaii Island to showcase their hula skills in competition. Sacred Hearts Academy senior Liliana LaBatte was among the hundreds of professional dancers who competed in the 59th annual festival in April.  
"Growing up as a hula dancer, it has always been my dream to perform on the Merrie Monarch stage," LaBatte said.
LaBatte shares that although her preparation for this event with her halau started in January, her individual journey to this special week began long ago. 
"The moment that I started dancing hula is when I started to prepare for Merrie Monarch. Even though it was never the intention at the time, every lesson, every practice, every kumu, every alakai and every late night that I had, has prepared me for that stage," she said.
Typically, halau showcase two styles of hula at the event. The more traditional style of hula, referred to as "kahiko," involves chanting, drumming, earthly tones and more rigid movements. The following half of the week showcases the more modern side of hula, known as "auana," which includes strummed music, colorful wardrobe and a more playful storytelling. LaBatte spoke on the dedication and discipline required not only in anticipation for these performances but for the strength to be a hula dancer in a halau as well. 
"We work, sweat and cry together until we get onto that stage. We practiced from 6:30 p.m. to sometimes past (midnight) for four months," LaBatte said. For dancers of this long-practiced art, hours go past simply perfecting movements and into shared activities, like creating homemade attire, fundraising and learning stories, which essentially make their time with the halau another home for them. She shared that like any great passion, personal sacrifices were made between academics and health. 
"I had nights where I had to pick between sleeping or doing my homework because of the late night practices," LaBatte said. 
Despite these challenges, she shared that this experience allowed for personal growth as a dancer and individual. 
"The second (most) challenging thing for me personally was finding myself in hula again," LaBatte said. She shared that this period of training was the first time since she had danced outside of COVID-19 restrictions. Prior to the pandemic, she only participated in smaller competitions. 
LaBatte says that her mother has always been her inspiration to participate in the Merrie Monarch. 
"I grew up watching Merrie Monarch videos on YouTube, and I would find the years that she danced and just watch them over and over again," LaBatte said. This passion that LaBatte has is something she hopes to pass on as well. She says, "I hope one day, when I have my own little girl, that I can share with her my passion for hula."
LaBatte expresses that the ambition, skill and love for the dance is something that goes beyond it being just a retelling of stories.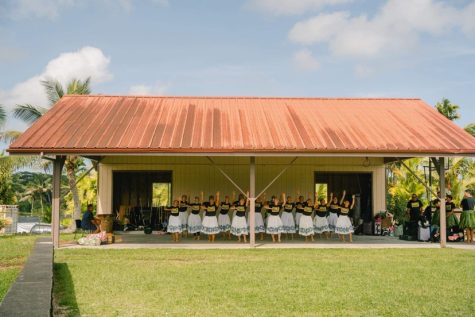 "During my whole journey, I got to create stronger bonds with my hula sisters," LaBatte said. LaBatte shares that some of her fondest memories were made alongside her peers, like showering in an outdoor stream at night in paa laa, riding the bus in Hilo, dancing on Mount Kilauea and sharing the anticipation of the night before their competition. She says, "Hula had taken over my life for those four months."
Even after she has fulfilled a great dream of performing in the Merrie Monarch, LaBatte hopes to continue her journey through life with hula. 
"I don't think I'll ever stop dancing hula, and I plan on doing a lot more Merrie Monarchs for the years to come," LaBatte said. 
LaBatte  expresses that the importance of Merrie Monarch is a way in which the essence of hula becomes showcased. She says, "When you hear a hula dancer say 'hula is life,' Merrie Monarch shows you that hula, indeed, becomes your life."
View Comments(1)
About the Contributor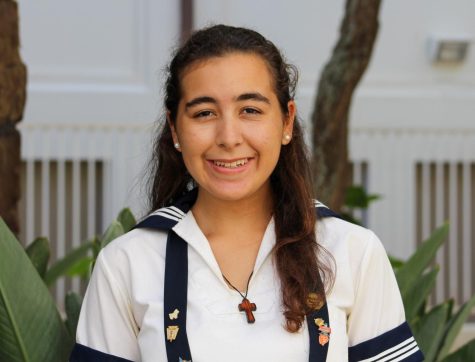 Emily Trueba, Reporter
Emily is a first-year journalism student and a senior at the Academy. She hopes to be able to find connections within the Sacred Hearts community to the...