Season recap: Eō Kanalui's journey across the waters
This winter sport's season allowed the Sacred Hearts Academy paddling team to be shaped by the waters of Waikiki through discipline, community and growth for a meaningful and successful season of paddling. 
"It was an unexpected result for them, but not for me," said Head Coach and alumna Jordan Terry. "I knew we had potential. It was time to get to work and flip the script."
Canoe paddling is an ocean-oriented sport, which consists of six people in an outrigger boat who paddle in the same motion. 
"It really is a thing of adrenaline, created by the uncertainty of the ocean and determination of the team," freshman paddler Laulea Meyer said when describing the sport.
Originating in Polynesia, the sport was formerly a way of life used to navigate the waters of the Pacific.
Terry shared, "Canoe paddling is a very unique sport with cultural ties all over Polynesia. Being Hawaiian, this is my way of connecting to my roots."
Eō Kanalui, the paddling team that has been established at the Academy for several decades, consists of eight paddlers and two coaches this season. "We are always seen as the underdogs in every competition. I love the challenge (it presents)," Terry said.
 The team practices daily in the waters of the south shore, leaving from the Ala Wai Canal and heading either toward Diamond Head or Kewalo Basin.
"I chose to paddle because I wanted to try something new at school and find a sport that I enjoyed doing. I thought that paddling would be a good choice because I enjoy being at the ocean," Academy junior Madison Iwashita said. 
Races that the girls compete in range from 3 to 5 plus miles along the south side of the island. Terry shared that, as a former paddler for the Academy, she is able to have better insight into coaching the girls. 
"The experience that I bring (is) from not only racing the same race courses as my paddlers but the intense training that they go through," she said. "I know what it takes to succeed; I have been there."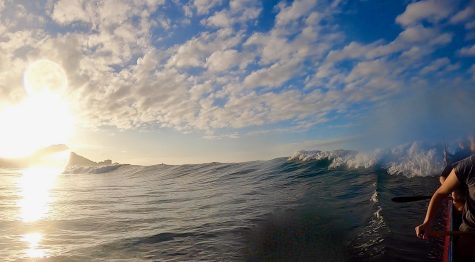 Training for the races requires conditioning, which includes swimming, running and perfecting technique in order to withstand the miles to be paddled in the water. Senior Malia Hiapo describes her experience in training,  "Willingness to keep, both mentally and physically, was tough, but I am proud of myself and my teammates for pushing through." 
Another factor of paddling before racing is learning the assigned roles of each seat within the boat. Iwashita explains, "Because everyone is paddling in the same canoe, working as a team is super important because each person has a responsibility that will help the canoe move faster and smoother."
 Going into their first race required the girls to dash to Kewalo Basin and back into the harbor of Magic Island. Terry shares that placing came as a surprise for most of the team. 
She says, "We all worked hard to prepare for the race. Coach Morgan and I were fairly confident the team would perform well, but you never know what will happen in ILH (Interscholastic league of Honolulu) races. When we came in third, the look of surprise on the girls' faces was everything." 
As the Lancers continued into the season, the team shared their excitement when coming in first place during a later race. The Lancers paddled into their finish by a one-second lead. 
"It was one of the gutsiest performances I have ever seen in one of the longest races of the season. It was a battle, a grind for 4 miles. These were my proudest moments," she said. 
Aside from racing, Terry shares that the true heart of paddling is found in connections made while developing skill.
"In this modern world, this is how I connect and ground myself with my culture. The technique, or the 'art' of paddling I teach has been passed down to me from multiple generations of mentors," she said. 
"The bond you create with your teammates is like nothing else. In order to move the canoe, you have to pretty much be exactly the same as the person sitting in front of you and behind you. You have to be totally in sync. I am bonded for life with some of the people I have paddled with," she said.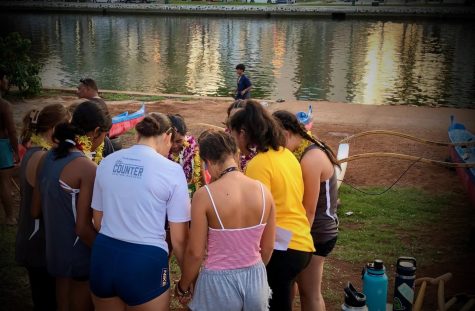 Hiapo shared her experience when it came to connecting with others in paddling for Eō Kanalui this season. 
"It's taught me the importance of working with others," she said "My connection towards my teammates brings a sense of comfort. Just being around them makes me laugh because of how goofy they are. It's a nice and welcoming atmosphere."
Meyer adds to this bond saying, "These girls I've only known for a few months quickly welcomed me into their team and became close enough to be sisters to me."
Because most of the action in the sport of paddling is not on land, the girls are not only accompanied by each other but by the wildlife and ecosystems that share the blue waters that surround them. Terry explained the pressing factor of paddling to be "mother nature" saying, "We are at her mercy; the winds, the rain. We can only take what they give. Our training schedule heavily relies on conditions for the day."
Along with these conditions, the sea brings equal amounts of life. 
Iwahsita shared, "We often are able to see a lot of marine life during practices, which other sports don't get the chance to experience. This season we've seen a whale, dolphins, turtles and a Hawaiian monk seal."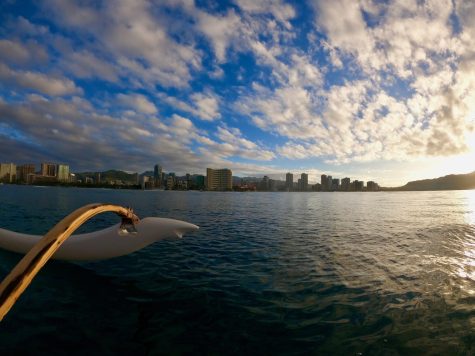 The team shared appreciation and emphasis of the unique factor that the surrounding environment brings to the experience. 
Terry says, "When all six paddlers are in harmony, it is a breathtaking sight. All six (are) reaching together, driving together (and) recovering together with Diamond Head in the background. We are fortunate to live it everyday."
The team also had the chance to surf the waves of Waikiki at the end of the season.
Meyer shares, "One very impactful memory I had this season was when our coach took my team canoe surfing on the last day of our season before our final race. It was also really fun to get to do it with my teammates because I knew if anything happened, they'd know what to do and have it covered."
Due to the pressing conditions and circumstances presented within the sport, internal growth was bred for the girls on the team. 
Iwashita remarks, "Paddling has taught me a lot about pushing myself and being more outgoing. I've made many new friendships through paddling, and I find myself more motivated to push my limits in order to do difficult things."
"At the end of the day, it's not about wins, losses or how good your technique is," Terry said. "Did you grow from this experience? Have you gained more confidence in yourself? That is what I am looking for. If we have successful seasons along the way, that is a bonus."
View Comments (3)
About the Contributor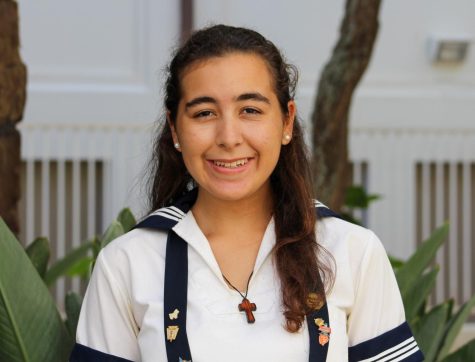 Emily Trueba, Reporter
Emily is a first-year journalism student and a senior at the Academy. She hopes to be able to find connections within the Sacred Hearts community to the...