Academy forecasts 'Crossing Rain'
This just in: the forecast at Sacred Hearts Academy has been mostly sunny, with intermittent Crossing Rain.
The Hawaii boy band inspired by Korean popular music (K-Pop) recently performed on campus, as one of the few in-person events this school year. Lancer students and teachers welcomed the rising stars with colorfully-decorated signs and loud cheers during their performances.
"Watching Crossing Rain was an amazing experience," said senior Zandrina Cambra, a fan of K-Pop. "The boys constantly interacted with the crowd and made sure everyone was having a good time. My friends and I loved the songs they wrote and their choreography."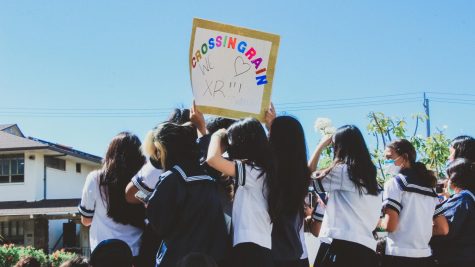 The group performed twice on campus in February. Prior to that, junior Kathleen Burgos had never heard of them before.
"What caught my interest was that they claim to have similar elements to K-Pop but include their own characteristics," she said. "I became more intrigued when I heard they choreographed and wrote their own songs as well. It made them seem human and acknowledged their passion for their art."
From following group member pages on Instagram to creating fan pages, many others at the Academy became Crossing Rain fans after their performances. 
TIRZAH Entertainment recently brought together the six-member group. In November 2021, Crossing Rain made its first official Instagram post announcing the members: Evan "Haru" Doria, Wyatt "Monarch" Kaneshiro, Jorden Kealoha-Yamanaka, Asher Morgado, Shotaro Takasawa and Devin Teruya. 
They have since released an album called "Dreams," with eight unique songs and a radio mix version of their song "Comeback 2.0." Not long after the campus concerts, the group hosted a "Nice to Meet You" concert at the Neal S. Blaisdell Center.
"The 'crossing' portion of our name…means we're going across the street to help a neighbor or friend in need. We will cross oceans and continents to spread our message of love and the meaning of aloha around the world through our music and our actions," Teruya said in an interview with KHON2 News. 
The term 'rain' in their group name refers to rain being a blessing that heals and nurtures, they said. Members of Crossing Rain–XR, for short–range in age from 12 to 21. 
In an interview with the Academy's student news team, Lancers Lately, they elaborated on what it means to be inspired by the K-Pop genre.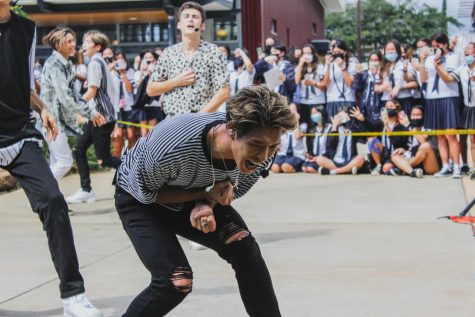 "We idolize (K-Pop groups) for their hard work and their dedication and creativity…and we want to put in that same work and produce the same product," Teruya said. "But we like to think that we give something different…because we have our own personalities and our own flavor." 

The Lancers Lately crew captured highlights of both campus concerts and interviewed members after the first show. Their coverage aired on the school's newscast, as a "Lancers On the Street" segment. Burgos also had the opportunity to be part of the student media team.

"Getting to meet them up close will always be memorable," she said. "I was humbled by their casual personalities and their talent." 

Lancers Lately reporter and Academy junior Samantha Europa agreed. 

"This was a very interesting experience because I have never interviewed a group as big as this," she said. "We wanted (interview) questions that were interesting and brought out their personality when they answered. On the day of filming, it was nice to talk with them. While filming, everyone was laughing and making jokes, which was what Lancers Lately wanted to capture."

The interview with the group wrapped up with light-hearted questions like, "What is your go-to emoji when you need a good laugh?" and "Does the cereal go before or after the milk?" 

"I like the heart emoji," member Takasawa said in the interview. "I like the chair emoji," member Morgado said.

Although still fresh out of their debut, Crossing Rain has taken the state by storm performing at multiple schools and participating in interviews for local media publications. Crossing Rain's music is available across 110 different streaming platforms.

"I wish them all luck on their path to stardom," Europa said.

The Lancers Lately crew chatted with Crossing Rain after the band's performance. Video by Lancers Lately.
Leave a Comment
About the Contributor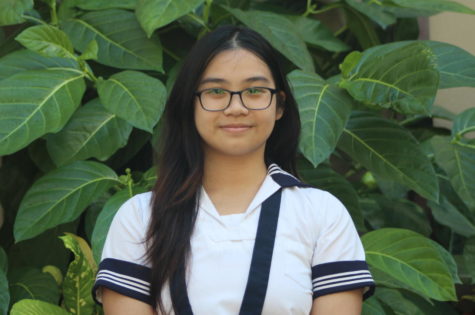 Britney Pham, Reporter
Britney Pham is a second-year Journalism student in her senior year. By being a student reporter, she is able to connect and interact with the world around...