Taking steps toward a zero carbon footprint
For Sacred Hearts Academy sophomore Ella blu Pakele to offset her own carbon emissions, she'd need to plant 12 trees. And that's exactly what she did at Gunstock Ranch, as part of an initiative to make Hawaii the first carbon-neutral state.
"Taking an active approach to this climate change problem instantly drew me into the challenge, and I wanted to be a part of that," said Pakele, who calculated her carbon emissions using an online survey.
She and others not only made state history planting more than 10,000 native Hawaiian trees at once that day but also helped curb a global climate crisis at a local level.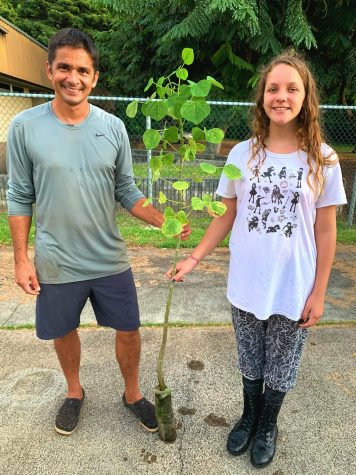 The effort to target climate change, by having a zero-carbon footprint, was a challenge put forth by father-daughter duo Camilo Mora and Asryelle Mora Rollo. Prior to this, they organized a group to plant 1,000 trees in one day near Tripler Hospital. 
"It never would have crossed my mind that we would be planting trees," said Camilo Mora, an associate geography professor at the University of Hawaii at Manoa. "But it was my then seven-year-old daughter who showed me the light and came up with the challenge."
Carbon neutrality refers to removing as much carbon dioxide from the environment that one puts into it. According to him, even a small increase in carbon dioxide can cause the earth to get warmer; a scenario confirmed by NASA last year in being the second warmest year on record.
The trees planted at the Gunstock Ranch will be named Pearl Harbor Legacy Forest in commemoration of the attacks on Pearl Harbor in 1941.  
Facing challenges
Camilo Mora is certain that carbon neutrality will be the solution to climate change.
"Think about carbon neutrality like your bank account; you cannot spend more money than you have…or you'll start going into debt," he said. "The same goes with climate change because we are producing carbon dioxide like crazy."
On his website GoCarbonNeutral.org, an individual can calculate how much carbon dioxide he or she generates and can estimate the number of trees necessary to sequester those emissions.
As simple as it sounds, he says, the project still faces challenges.
"Right now in the state, where you plant trees, their survival is about 10 percent. Out of 100 trees, only 10 of them will survive," Camilo Mora said.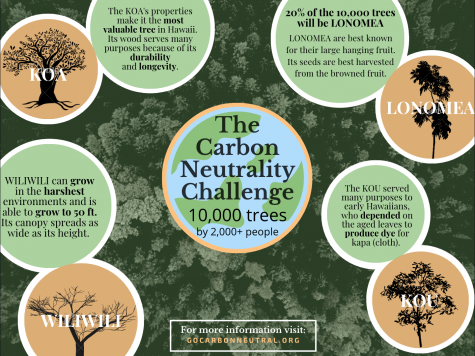 Through pilot studies, his team used weed-blocking mats around each plant to combat weeds. This increased the saplings' survival by 50 percent.
Lack of water had also been a challenge, which was improved upon at the Gunstock Ranch planting. The team organized a watering system. The system collects water during the rainy season to last through the dry season and thus ensure constant maintenance.
To remedy roots damaged during the transplant process, the team found a cheaper alternative that would allow volunteers to plant trees without damaging the roots in the process. The saplings' survival rate will increase to about 60 to 80 percent.
Native trees planted include, koa, lonomea, kou and wiliwili.
Though these solutions have brought hope to the project, they did not come at a small cost to Camilo Mora; most of which he pays out-of-pocket. 
The most recent Gunstock Ranch event totaled over $30,000. Some funding came from a Kickstarter campaign and 350 Hawaii, a local non-profit fighting climate change. Support from the government, he said, would help to reach their goal in making Hawaii the first carbon-neutral state.
Depending on funding, the team plans to plant 100,000 trees in November.
Trending trees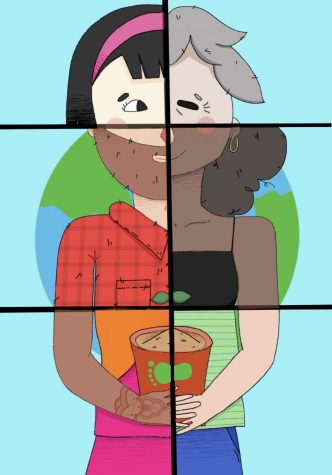 The university professor is not alone in his efforts to combat climate change with trees.
A similar online challenge called #TeamTrees encouraged followers to plant 20 million trees. The effort would potentially raise $20 million, which would be donated to the Arbor Day Foundation.
The challenge gained traction through the online video-sharing platform YouTube, reaching its funding goal within a few months. 
Student volunteer Pakele said the efforts should extend beyond the viral challenge.
"I hope that their minds and hearts are doing this from a genuine place," she said. "Sustainability is not a trend, nor should it be treated like one."
Spreading the word

Among the challenges, motivating the community is the most difficult. The father-daughter pair has been speaking at schools, including the Academy.
They explain the concept of a person's carbon footprint and how everyone's carbon footprint contributes to global warming. 
Pakele, who splits her time between three environmentally and globally focused clubs, attended the presentation earlier this year.
"I hope that people walked away with a better understanding that their positive contribution, no matter how small, can leave a lasting impact on their community and around the world," she said.
Leave a Comment
About the Contributor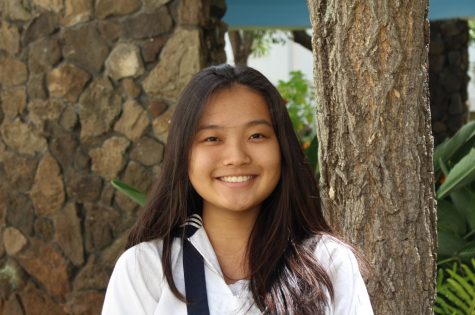 Noe Nekotani, Opinions Editor and Webmaster, Reporter
Noe Nekotani is a senior fourth-year journalist/webmaster/opinions editor for Ka Leo. In her free time, she enjoys listening to music, yoga, and hiking....