Ready, set, run!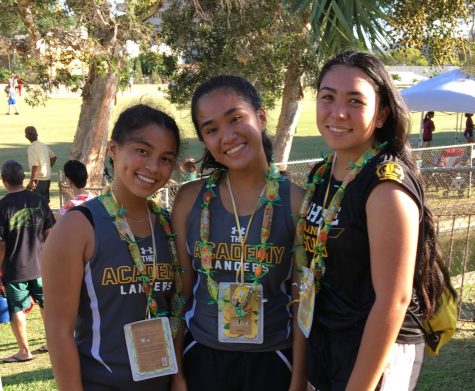 Last month, Sacred Hearts Academy Lancers raced in the annual cross country championships with the determination to win. 
During the Interscholastic League of Hawaii (ILH) championships, junior Emma Premaux placed 30 out of 63 for female runners. With gold and white pride, she qualified to compete in Maui for the state championships on Nov. 2.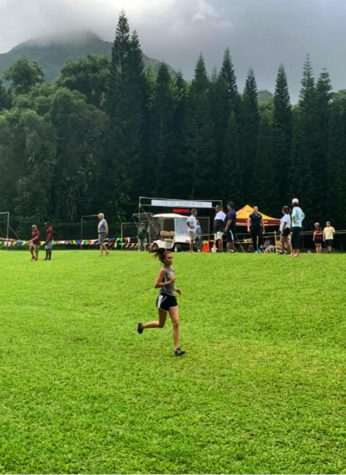 For her, she not only sees the physical benefits of running but the mental benefits as well.
"Cross country is an unappreciated sport because it is long-distance running," Preamux said. "When you hear cross country, you immediately think of running, but there is so much more you can learn from the sport."
Academy Coach Malia Nanbara agrees.
"Cross country is such a mental sport that believing you can is half the battle," Nanbara said. "To improve, sharing the growth each week with the team helps to build that confidence throughout the season."
Before the meet, teams prepare by stretching and completing their daily drills. They also take on long runs, hill workouts and speed workouts. 
As far as diet, student runners stock up on carbohydrates, like pasta, and meat the night before. On the morning of the race, they eat a light meal, which includes oatmeal, bananas and cereal. Hydration is also important.
Insight from the writer
As a reporter and runner myself, I can relate to what Premaux said; running has taught me a lot of life lessons. Metaphorically, I see the hills we run as a representation of the many challenges and goals that may be difficult to reach. One must push through to get to the other side, or to overcome those so-called challenges. 
Leave a Comment
About the Contributor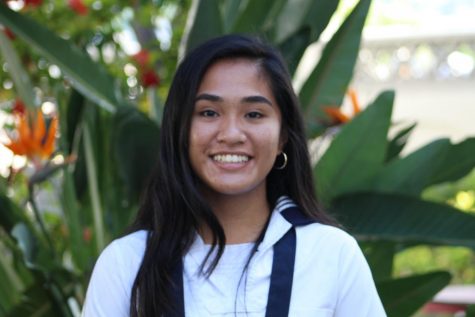 Rheamae Ibarra, Reporter
Rheamae E. Ibarra is a second-year journalism student in her senior year. During her free time, she likes to draw/create art and spends time on Twitter,...