Street art colors Honolulu communities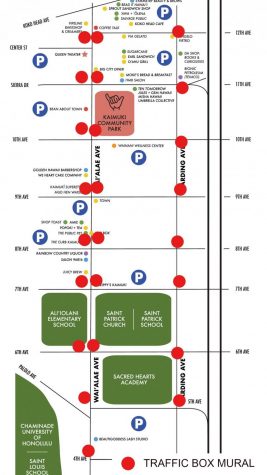 As artist Jenny Floro puts the final touches on a mural near the Kaimuki fire station, onlookers are already praising her work. The painting of locally-grown fruit colors a traffic signal box. It's one of more than two dozen murals decorating the Honolulu neighborhood, in an effort to fight vandalism and to bring a sense of identity to the area. 
"The hope is that this will help beautify the community, and once an artist puts something on the (traffic signal) box, nobody will touch it," Floro said. She and others from grassroots community art organization Street Art Hawaii teamed up to paint signal boxes along Waialae Avenue and Harding Avenue. 
Beautifying boxes 
The increase in graffiti around Kaimuki sparked the initiative. 
"It's a charming little town, but it had been getting kind of shabby," said Street Art Hawaii Founder Jennifer Noel. "We thought this would be a good way to spruce up the town with the hope that people recognize art can be in unexpected places."
Have you noticed more graffiti in Honolulu?

Sorry, there was an error loading this poll.
The idea to paint traffic signal boxes mimics what Noel had seen done in other states. She got approval from the Mayor's Office on Culture and the Arts.
For two days, artists, schools and local businesses joined in on the efforts to beautify the Honolulu community.
"Our mission is to bring art to everyday things, and if those things have graffiti on them, then we turn them into works of art," said Noel, who explained how graffiti on murals have been incorporated into art pieces.
Those on the Sacred Hearts Academy campus, located in the center of Kaimuki, appreciate the murals. Teacher Rosalynn Cambe has been
commuting to campus for the past eight years and says she enjoys the added color.
"It somehow livens up the community," she said. "Because there's quite a number of them dispersed throughout, I always seem to discover a new one I haven't seen yet."
Mural movement gains momentum
The Kaimuki paintings are the latest examples of public art bringing color and conversation to Hawaii neighborhoods, artist Floro said.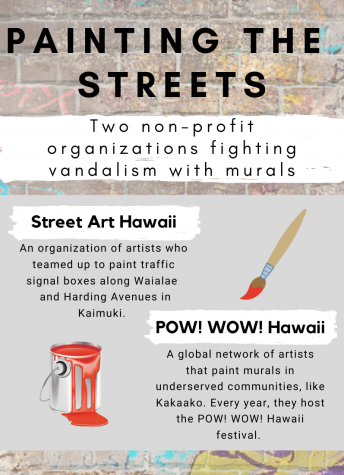 Other areas in Honolulu, including Chinatown and Kakaako, have already joined the so-called mural movement through annual art festivals, like POW! WOW! Hawaii.
"We now work out of 17 different cities around the globe," POW! WOW! Founder Jasper Wong said. "The goal is to paint the world, and we are heading towards that path…supporting underserved communities through public art and programming."
Academy students have also participated in POW! WOW! Last month, a group of lower school students toured the street murals and chatted with artists while they painted.
While the size of each art endeavor varies, with Kaimuki taking on smaller murals and Kakaako having larger ones, the process is the same. Both require permits and permission from property owners. The key, organizers say, is getting everyone on the same page.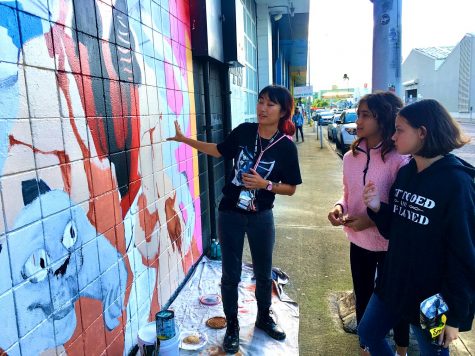 For Kaimuki, that meant including some thread of Hawaii in the murals. While artist Floro found her theme in backyard fruits, others have painted wildlife, historical events and local landscapes.
"I love all of the inspiration that surrounds us in Hawaii," Floro said. "The mural I painted was inspired by a walk through my neighborhood, where I saw people picking fruits.
She already notices how the murals have helped to build a sense of community in Kaimuki.
"People were stopping by and taking pictures next to the art," she said. "I loved seeing creativity come out throughout the community on different walls, even in tiny little spaces."
With a rise in graffiti, nonprofit Street Art Hawaii spruces up Kaimuki with murals painted on traffic signal boxes. Video by Mercedes Anacleto and Kirsten Aoyagi.
Leave a Comment
About the Contributor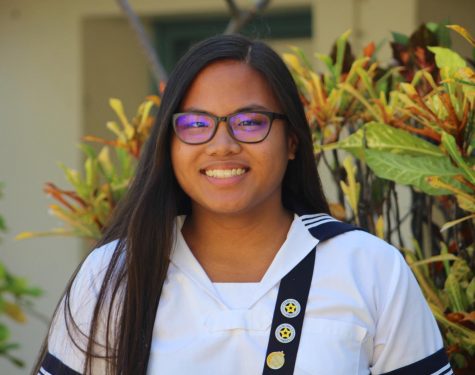 Mercedes Anacleto, Social Media Editor, Reporter
Mercedes Anacleto is a second-year Journalism student in her Senior Year. She is the Social Media and Sports editor.  During her free time she enjoys...