Academy students take a trip to the State Capitol
The Sacred Hearts Academy cheer team and Girls Got Grit program (GGG) visited the Hawaii State Capitol this weekend to be recognized by and meet Gov. David Ige.
On Monday, the Academy cheer team, along with Saint Louis School members, met with the governor to be recognized for their win at the Jamz Cheer National Competition. Later, the GGG members were able to present on the topic of, "If I were Governor, what would I do to make Hawaii better?"
"It was really interesting to see the Capitol and Gov. Ige in real life and not just on the news," senior Melina O'Reilly said. O'Reilly, along with senior Megan Valente, were the only seniors on the team.
Academy Athletic Director Ryan Hogue, Head of School Betty White and Gov. Ige presented certificates to the team after a short speech about their success.
"I honestly never would have thought that we would have won this big and be grand national champions," O'Reilly said. "The 'cherry on top' was definitely feeling the love and pride of our win back home in Hawaii. I never thought we would gain so much attention for our win, and it makes me really proud of my team and how far we have come."
While the cheer team was celebrating their championship win, the Academy's GGG team waited to present their presentations on problems in Hawaii and how to solve them. Problems that the groups covered included, environmental sustainability, pedestrian safety, teenage vaping in Hawaii, youth drug use and life skills training for high school seniors.
"The girls had been working on the answer to this question with their mentors since February and had their official presentations last week," GGG Advisor Noe Oliver '96 said. "As a result, we were invited by the governor to have each of the five teams give a short summary of each of their answers to that topic."
Following the presentations, the governor addressed each group, as well as the problems they focused on and what the government is currently doing to resolve them. Each groups mentors were also present to provide support for their students.
"The topic was very broad and difficult this year (and) thinking of 'big picture' issues challenged every student to develop their patience, resilience, adaptability and problem-solving skills," Oliver said. "It was very meaningful to have the governor recognize the teams and all of their hard work this season."
Leave a Comment
About the Contributor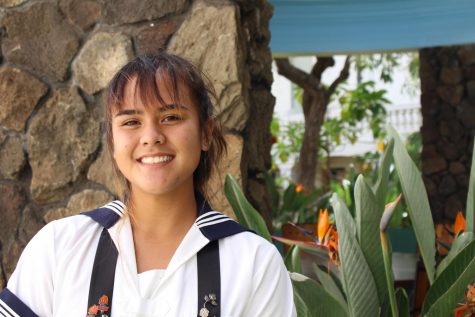 Rebecca Meyer, Features and Sports Editor, Reporter
Rebecca Meyer is a senior and third-year Journalism student. She is also the Features and Sports Editor. Being a journalist to her means being able to...