Pink Sweat$ releases new EP: Volume 2
Rhythm and Blues (R&B) newcomer Pink Sweat$ unleashes his heavily anticipated EP "Volume 2" on March 28 through his label, Human Re-Sources.
Pink Sweat$, or David Bowden, is known for outstanding vocals, tasteful production and his signature pink clothing. The album features five tracks in total, which include, "Coke & Henny Pt. 1" and "I Know." Both were released prior to this album.
At 26 years old, the Philadelphia native is taking a new approach to creating genre-bending music. Bowden's music is rooted in R&B and soul, but he is not like any other conventional R&B artist, especially since the genre has been associated for decades with cartoonish masculinity. Bowden is the opposite of that; he is husky, dresses almost entirely in pink, and he always incorporates sweet melodies and memorable yet sensitive lyrics.
With his single "Honesty," a tranquil confessional ballad, he rises to the top as the song reaches number 23 on Spotify's Global Viral Chart and number 10 on Spotify's U.S. Viral Chart. He garnered over two million streams in less than eight weeks and released his first EP "Volume 1" last November.
Now, the phenomenal singer-songwriter is back with "Volume 2" and once again brings his trademark of soul-filled music to the forefront in this latest project. With his first track, called "I Know," he introduces a song filled with traditional folk vibes that adds a touch of southern heat to the EP. The song already has over one million streams on Spotify due to its release as a single.
"Coke & Henny Pt. 1" is a cheerful and simple song and has a similar feel to "I Know" because of its cleanly picked guitar melody. Bowden talks about a hopeful longing for another person with gentle harmonies to accompany his story. The next song, "Coke & Henny Pt. 2," moves away from the blues-oriented style of sound and leans more towards R&B. This song highlights his gifted falsetto while concluding that his love and longing for the person is one-sided, and he is stuck with this numb feeling inside.
The fourth track, "Your Side," features thin percussions that slowly trickly throughout the song, giving an intimate movement to listeners. Bowden touches on the pain that comes with a newly empty bed and how it is only eased through the memories of the person he used to share it with.
Lastly, "Body Ain't Me" finishes off the EP with a moving vocal performance from Bowden. The song brings goosebumps from head to toes as he exhibits his impressive vocal range. Catering to those with a broken heart, he adds in an emotional touch while he sings with care and honesty about his feelings of jealousy.
Pink Sweat$ truly rises to the occasion with his EP "Volume 2" and is positively and dramatically making his pink wave take over R&B. "Volume 2" is available on Spotify, iTunes and Youtube.
Leave a Comment
About the Contributor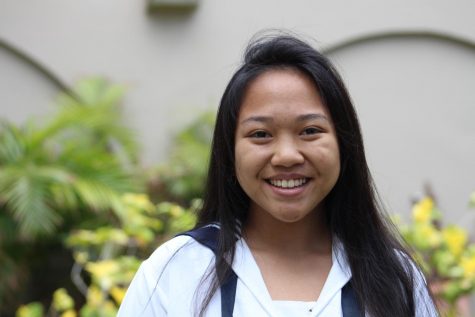 Tyra Tabayoyong, Reporter
Tyra Tabayoyong is a first-year journalism student in her senior year. In her free time, she enjoys discovering new places to eat, spending time with friends,...