Taking on the channel
With a single bag in hand, I made my way across the airplane runway to a tiny nine-seater plane bound for Molokai. Each stride closer brought about a new emotion, but it was the realization of a lifelong dream about to come true that had me leaping into my seat.
Ever since I was 10, I dreamt of paddling in the Na Wahine O Ke Kai. The outrigger canoe race drew hundreds of female paddlers from around the world; it was the race that made a paddler, a paddler. And every year, I watched as the women in my family took on the 42 miles, crossing the treacherous Kaiwi Channel with so much strength and so much grace.
Now, it was my turn.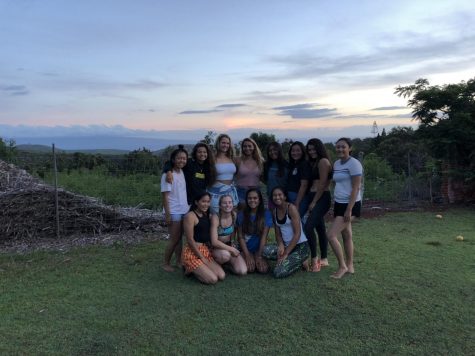 I, along with 11 other girls, trained to cross the channel for months leading up to the race. Working with everyone not only made the training more enjoyable but also brought us together as a team. We represented high schools from across the island, with four from Sacred Hearts Academy.
It was nice to have a few days of rest and relaxation before the big day. Exploring the small island and visiting iconic landmarks kept our nerves somewhat in check. But it wasn't until Saturday's sunset, when we gathered to take a group photo, that we realized the ultimate goal of our paddling careers was happening tomorrow.
With the final click of the camera, we rushed into the house, bumping into each other and tripping over clothes scattered across the hallway. An hour later, the chaotic scene turned quiet, as we sat in the living room awaiting our coach's cues.
Coach David was a man of few words, so it was no surprise his pep talk was short and sweet.
"Try your best" and "as long as you have fun is all that matters" were a few phrases I recall hearing, as I tuned in and out of my own thoughts.
But we all knew what he really meant was: "win."
The big day
The next morning started before the break of dawn. We made the almost hour-long journey to Hale O Lono Harbor, where more than 60 canoes sat ready to conquer the great blue.
Rather than excitement and joy, our faces were solemn. But the warm smiles and nods from neighboring crews helped us to relax; I remained unphased. My mind continued to race.
As I trudged through the routine, a familiar face appeared in front of me. An older woman, who I endearingly call, Aunty, recognized me from a previous race. She gave me a big hug, and in a smiling voice, aunty reassured me.
"Rebecca, you go out there, and paddle your hardest," she said.
I needed to hear that; it sent me in a forward motion, walking away with confidence, as we headed to the start line.
The next six and a half hours were the most challenging of my entire paddling career, as I battled heat, hunger, fatigue and motion sickness. At times, I was conflicted with wanting to be in the canoe, paddling, or in the escort boat, resting.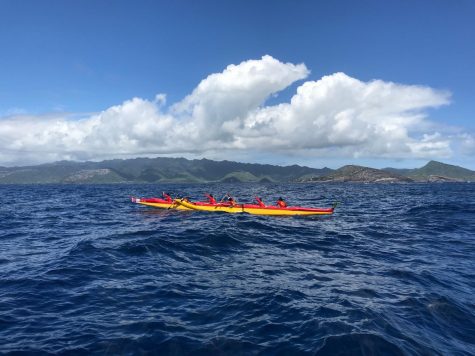 As I paddled, my mind continued to race.
"Think of everyone waiting for you at home; this is what you've dreamed of for seven years. Don't give up now," I thought to myself.
Undoubtedly, it helped me push through each 15-to-45-minute spurt. Every time the escort boat pulled up to us for the next change, a part of me wanted to be called out so that I could take a break. But I knew I wanted to cross as much of the channel as I could, so I kept my head down and my eyes up ahead.
When I was eventually called out of the boat, a feeling of relief washed over me; relief even more refreshing than the rush of saltwater enveloping me, as I jumped out of the canoe. And despite the rough swells that churned our boat and bodies, I finally felt at ease.
In September, some of our Lancers took on the ultimate canoe paddling challenge–completing the Na Wahine o Ke Kai Molokai Channel paddling race. VIDEO BY: Rebecca Meyer.
Crossing the finish
The next few hours of the same routine dragged on; land was nowhere to be seen until about four hours into the race when we neared Diamond Head. But we continued to push and drew out whatever energy we had left to show Coach David who was worthy of finishing the race; only six of us could cross the line in the canoe.
As we neared the finish, at Duke Kahanamoku Lagoon at the Hilton Hawaiian, I became anxious for our coach to call one more change. Would I be in the boat crossing the finish?
"Finish it," he said to the group of us waiting eagerly on the escort boat.
Almost unable to contain my glee, I plunged into the rough waters. It was as if he told us we won the lottery. In my mind, we did.
I gave everything I had until the final moment of crossing the finish line. And as we crossed, I heard the sweet victory of my name being called out by the announcer. I let it sink in, and I savored all that lead up to that moment of glory.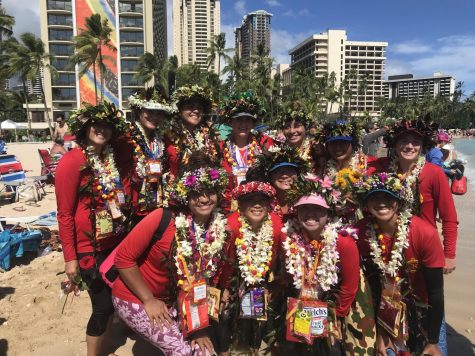 As the boat touched land, I leapt out and sunk my feet into the sand. Our family and friends surrounded us with smiles, hugs and tears, and all the while, I couldn't help but think how proud I was of myself and of my team. We were officially paddlers.
View Comments (2)
About the Contributor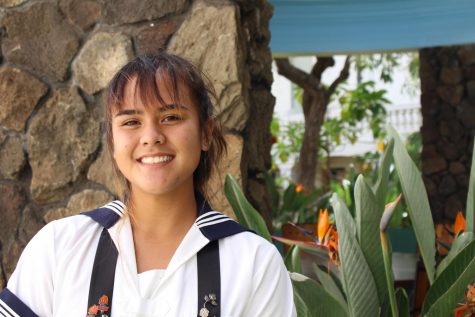 Rebecca Meyer, Features and Sports Editor, Reporter
Rebecca Meyer is a senior and third-year Journalism student. She is also the Features and Sports Editor. Being a journalist to her means being able to...