The first day of Sacred Hearts Academy's 2016-2017 school year began with a burst of brightly-colored posters and silly puns, as Student Council cheerfully waved signs to welcome students and teachers.
But for us, the school year had already started the week before with a summer camp. During the two days, we played memory games and took part in other activities to get to know each other. It was definitely an unconventional way to start a team bonding activity but an effective one.
On the first Friday of school, Student Council celebrated the start of the year with our first pep rally. Not only was it our Student Council's first pep rally, but it was also the first time I had to speak in front of the entire high school. I'm still embarrassed by how badly I stuttered. I don't think I'll ever be  comfortable speaking in front of so many people.
Whether this is a good thing or not, I got a lot of practice speaking in front of the school. Whether it be at our other pep rallies or announcing events during flag, Student Council is always up to something.
We celebrate the Academy's birthday every year, but this year was different. At least, it was for me. To celebrate our 107th birthday, Student Council ran a series of homeroom photo challenges. As publicity chair, it was my job to go through the photos and pick the winners. It was hilarious seeing what all the homerooms, from both elementary and high school did, in their photos. One of my favorite's was Mr. Adkins' homeroom, who created '107' out of their bodies. The best part? Mr. Adkins' wildly-grinning face.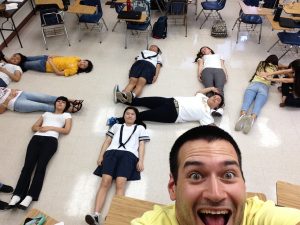 Today, May 12, we wear our pink Student Council shirts for the last time. We wear them to celebrate this year, for getting to our destination on this crazy road trip called school. We made it through last-minute notices, a handful of pep rallies and every other school event under the sun.
And tomorrow? Tomorrow we celebrate the next step on our road trip–college, and for some of us, newly colored 2017-2018 Student Council attire.