Sacred Hearts Academy students participate in many extracurricular activities, with one in particular that aims to develop students into Hawaii's future leaders.
The Center for Tomorrow's Leaders (CTL) is an organization for high school students that offers comprehensive, character-focused programs and aims to get students involved in community-based projects.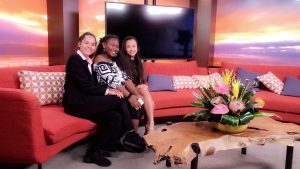 Last month, CTL students visited the Hawaii News Now news studio, located in Kalihi, to learn more about leadership in the media industry. Students were able to ask reporter Mahealani Richardson various questions, ranging from her career aspirations to her day-to-day work schedule.
Students were then led onto the set, where they were able to meet reporters Guy Hagi and Stephanie Lum. They watched as Hagi reported on the weather.
"I thought it was cool to see how much work is put into news and video productions and what it takes to be a part of it," Academy freshman Kalei Downey said. "Even the little things that happen during production can count for so much."
In addition to the field trip, students participating in CTL were also able to meet the editor of "HNL Flow," a local magazine published by Academy alumna Vina Cristobal.
The 2011 graduate is the founder and editor-in-chief for the publication. She sat in on a recent CTL meeting, where she talked about her leadership journey and passion for the media industry.