While most students kicked off their spring break with a trip to the beach or to the mall, Sacred Hearts Academy's Japanese language students swapped their beach slippers for covered shoes–participating in games at the 23rd annual Honolulu Festival.
The high school students, ranging from beginning to Advanced Placement (AP) levels, attended day two of the three day event for an extra credit or community service opportunity.
"It was a great cultural experience that really embodied the Pacific Rim and Asian cultures," junior Kalei Cruz said. Cruz, an AP Japanese student, wanted to broaden her knowledge of the Japanese culture and make friends with Japanese students.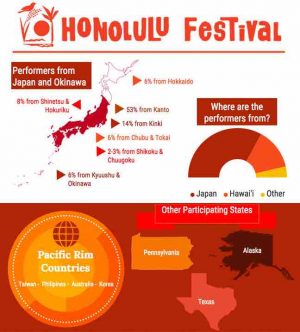 The Honolulu Festival is a cultural event that supports the peace and cooperation among people living in Hawaii and the Pacific Rim region. The festival is comprised of different educational activities and performances aimed at sharing the different ethnic backgrounds that make up Hawaii, Asia and other Pacific islands.
With more than 100 performance groups from various countries such as, Japan, the Philippines, Taiwan and Korea, the festival is dubbed the largest and most diverse event in Hawaii.
The performances took place both on the stage during the exhibition and on the streets during a four-hour parade.
The students were able to play games and participate in activities hosted by Sakuragaoka Junior and Senior High School from Tokyo, Japan. The school, with more than 200 participating students, set up booths according to different classes and grades and offered a variety of games, learning activities and cultural education presentations.
One of the games played was Karuta, a card game in which the Japanese students would call out a card name in Japanese or English, and the players would have to obtain it as fast as they can.
Students were then taught how to write their names in kanji, a form of Japanese writing. In order to keep in touch with their newfound friends, the Sakuragaoka students and Academy students exchanged social media accounts.
"The experience was enjoyable because I got to learn more about Japan and make friends that can help me learn even more," Academy sophomore Aiyana Arnobit said. Arnobit and the other students learned more about Shorinji Kempo, a form of Japanese martial arts.
A parade, held on the third day of the festival, included the students from Sakuragaoka sporting bright pink traditional Japanese Happi Coats.
Academy students attended the parade to support them, as they danced to popular Japanese pop songs with flowers in their hands.
Wrapping up the event with a bang, the Nagaoka Fireworks Show showcased an array of bursting colors to music that lasted 20 minutes on Waikiki Beach.