Academy Awards filled with firsts
Every year, the Academy Awards leaves film fanatics buzzing over notable movies and up-and-coming Hollywood standouts. This year, however, the ceremony had people talking about a major mishap.
In a dramatic finish to the live televised event, "La La Land" was incorrectly announced as best picture. As the cast and crew celebrated on stage, mid-way through their acceptance speeches, one of the film's producer caught the error.
"There's a mistake," Jordan Horowitz said. "'Moonlight,' you guys won best picture. This is not a joke."
As confusion swept through the Dolby Theatre in Hollywood, the cast of "Moonlight" eventually made its way to the stage to accept the award.
While it is still unclear how the incorrect film was called, many are saying that the mishap provided a shocking "Hollywood twist" to a ceremony known to be particularly long and predictable.
"Moonlight," a story of a young, gay, black man, won three awards, including best adapted screenplay and best supporting actor. Mahershala Ali won best supporting actor for "Moonlight," making him the first Muslim to receive an Oscar.
Another first included "La La Land" director Damien Chazelle becoming the youngest director to win an Oscar. The film won six Oscars overall, including best original score and best song, and had 14 nominations, tied for the most ever.
Emma Stone won best actress for her role in "La La Land."
Comedian Jimmy Kimmel hosted the 89th annual ceremony, even putting celebrities on the spot with his popular segment "Mean Tweets." The segment is part of his "Jimmy Kimmel Live" show and includes celebrities reading and responding to negative tweets posted about them on Twitter.
The live performances were also among the night's highlights. This included Justin Timberlake performing his hit song "Can't Stop the Feeling" and Hawaii's own Aulii Cravalho singing "How Far I'll Go" from the Disney movie "Moana."
Other notable performances included Sting's rendition of "The Empty Chair" from "Jim: The James Foley Story." John Legend also made an appearance with "Audition" and "City of the Stars" from "La La Land."
About the Writer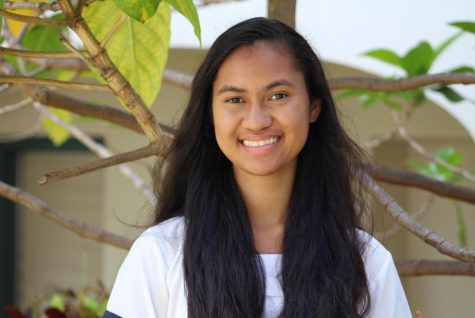 Martha Nicholas, Media Editor, Reporter
Martha Nicholas is a third-year Journalism student in her Senior year. Being a student journalist means being the school's messenger. It's a journalist's...