Symposium inspires girls in STEM
The welcoming wags of a few furry visitors signaled the start to this year's Science Symposium at Sacred Hearts Academy. The dogs were part of a veterinary medicine workshop, which allowed attendees to get a hands-on look into the world of veterinarians.
More than 300 fifth through eighth graders from about 100 schools participated in the annual event. Participants learned about different topics, such as robotics, marine biology, aviation and geology.
This year, the program was slightly different from prior years. Instead of having only a single session to explore a topic, students had the chance to stay for two sessions.
Robotics Goes First was among several workshops that extended for two different sessions. The Academy's robotics teacher, Peter Park, taught the class.
"I think (the Science Symposium) was a success because I could see the many young girls that were inspired," Park said. "(The robotics team) may have inspired (the participants) to be interested in robotics."
While students were exploring different fields of Science, Technology, Engineering and Math (STEM), parents attended their own workshops. They enjoyed a presentation by a panel of STEM experts.
Students from Maili Elementary and St. Joseph School were both shuttled to the Academy's campus in Honolulu. According to event coordinator Rodney Chang, this showed that the school administrators have a strong reliance on STEM education.
Leave a Comment
About the Contributor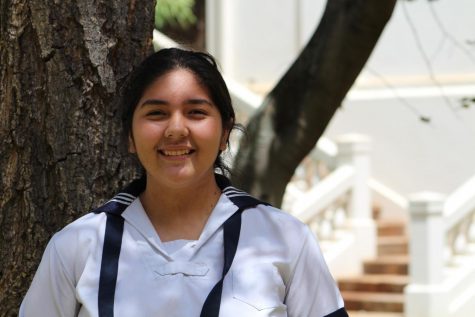 Shelby Mattos, News Editor, Reporter
Shelby Mattos is a senior and third-year Journalism student. She is the Publicity Chair for Division Council and participates actively in the Academy's...