Celebrating the Season of Lent
On the last Tuesday of February, one might have noticed students on campus eating sugary treats, like malasadas or churros.
The reason behind the overflow of sweets is because of Fat Tuesday. According to the Catholic church's calendar, Fat Tuesday is the last day of ordinary time before Lent begins.
For Catholics who are 18 to 59 years old, Lent is a time of fasting.
The 40 days represent the time Jesus spent in the desert without food. On Fridays, people of all ages are required to abstain from eating meat.
Ash Wednesday is the first day of Lent. This is when Christians go to mass and receive ashes on their foreheads.
According to Catholic Online, eucharistic ministers may say, "Repent and believe in the Gospel," or "Remember that you are dust, and to dust you shall return," as a reminder that God created man from dust.
Every Friday after Ash Wednesday are fasting days. There's a reason why Christians and Catholics abstain from consuming meat every Friday during the Lenten season. Meat was considered a luxurious meal eaten by the rich, while fish is thought to be a meal more fit for the poor.
Around the Sacred Hearts Academy campus, you may have heard, "What are you giving up for Lent?"
Catholics give up something; usually a bad habit or something in which they overindulge. This is a time to resist the temptation of partaking in that habit or certain item.
Students at the Academy are also following the tradition by abstaining from sweets, using social media, swearing or eating foods, such as rice.
A sophomore at the Academy, who prefers to remain anonymous, gave up swearing and vows to pray more.
"I gave up swearing because it's something that I'm not proud of," said the sophomore. "In place of my bad habit, I decided to pray, and so far (praying has) been really calming."
Leave a Comment
About the Contributor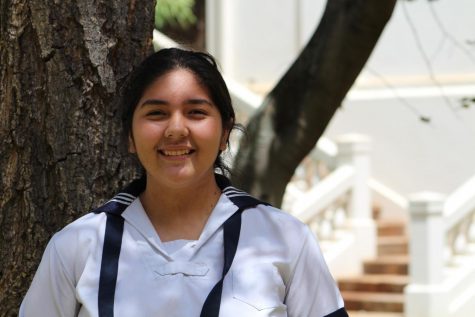 Shelby Mattos, News Editor, Reporter
Shelby Mattos is a senior and third-year Journalism student. She is the Publicity Chair for Division Council and participates actively in the Academy's...