Peppermint flavors the holidays
With its vibrant red and white colors, peppermint often marks the beginning of the holiday season.
Among the many peppermint concoctions, peppermint bark is a holiday favorite. Its crunchy chocolate layer of crushed candy canes provides a minty bite in every morsel.
To make peppermint bark, simply melt peppermint extract and semisweet white chocolate. Pour the sweet liquid into a pan and sprinkle candy canes across the top. Allow time to cool, and you'll soon have a batch of the famed food. It's a must-have at all the holidays parties.
And with all these parties and the delicious food that finds its way onto dinner tables, it's easy to gain a few extra pounds. But have no fear! Healthy-Delicious.com's chocolate peppermint green smoothie is an alternative to sugary confections. It is also packed with fiber and healthy fat, making it "totally appropriate for breakfast," according to the website.
Just add unsweetened coconut or almond milk, barely ripe avocado or banana, maple syrup, peppermint extract, baby spinach, flax seed and ice into a blender and serve. It only takes five minutes to create this icy, smooth treat, making it ideal for rushed mornings or a quick-fix drink.
What do you get when you mix Oreo cookies and candy canes? Peppermint-Oreo cookie balls, of course! The ingredients include chopped candy canes, cream cheese, melted semisweet baking chocolate and crushed Oreo cookies.
Mix the cream cheese with the Oreo cookies and form them into balls. Then, after freezing them for 10 minutes, dip them in chocolate and coat with candy cane crumbs. Following that, the cookie concoction should be refrigerated until firm. This snack is quick, easy and is sure to please any pepperminty, Oreo lover in your life.
For those with a more refined palate, peppermint creme brulee is an option that will make any tastebud happy. With a delicious peppermint creme and a satisfying crunchy layer of sugar on top, it's a fancy dessert that's worth the effort. It's also perfect for late night holiday dinners or parties with close friends.
Peppermint is one of the tell-tale signs that, as said by Jon Snow from "Game of Thrones," "Winter is coming!" Like its autumn counterpart pumpkin spice, it sparks joy within the hearts of holiday lovers everywhere and offers a nice freshness to start the holiday season. 
Leave a Comment
About the Contributor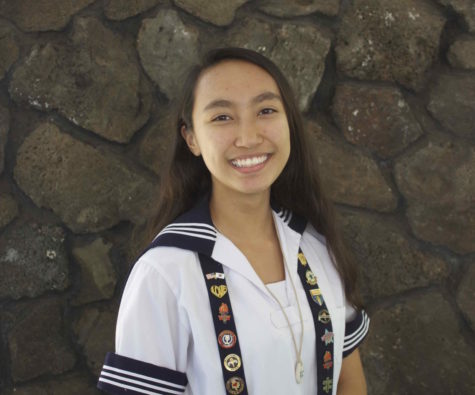 Kailanianna Ablog, Opinions Editor, Reporter
Kailanianna Ablog is a current senior at Sacred Hearts Academy and a third-year Journalism student. She is the president of Korean Club, the Outreach Head...