Dancing hula through New York City
An estimated 3 million people were at this year's Macy's Thanksgiving Day Parade, including 200 hula dancers and 400 band members from Hawaii.
Of those, Sacred Hearts Academy was well-represented; two students danced hula and a small group marched alongside the Hawaii All State Marching Band.
Dressed in bright red and yellow attire, Junior Emily Wharton and senior Jassirae Ordonez were the Academy students who danced hula in the parade. They are both dancing for a community hula troupe called Na Maka O Pu'uwai Aloha Hula Halau.
Wharton said it was thanks to her hula teacher that she had the opportunity to participate.
"My kumu was invited to help choreograph the hula…but she had been dreaming, for years, to bring her halau to the parade," Wharton said. After discussing with the parade directors, her teacher's dream came true, and the hula troupe was officially invited to take part in the Thanksgiving celebration.
For Wharton, it was not only her first time participating in the Macy's parade but also her first time visiting the east coast.
Trailing behind the band and hula dancers was a special Hawaii-themed float, which brought some island spirit to New York. The float, created by Hilo company King's Hawaiian, was decorated with giant plumeria flowers and a large volcano, which erupted with confetti.
About the Writer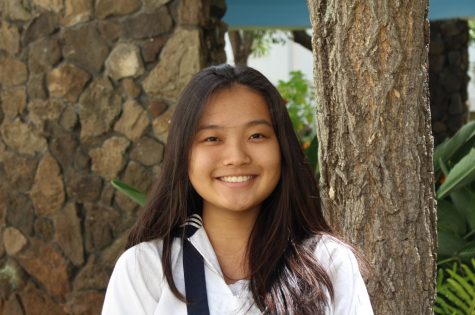 Noe Nekotani, Opinions Editor and Webmaster, Reporter
Noe Nekotani is a senior fourth-year journalist/webmaster/opinions editor for Ka Leo. In her free time, she enjoys listening to music, yoga, and hiking....