Korean rookies are 'All In' with 'The Clan Pt. 1 Lost'
South Korean rookie boy band Monsta X was "All In" this summer with the release of their mini album "The Clan Pt. 1 Lost." Released on May 18, the album claimed fifth place on the Billboard's World Albums Chart for two weeks and has Monbebes, a name given to fans, getting lost in the music.
The album contains six tracks and is the first installment of a 2.5 album series titled, "The Clan."
In an interview with SBS PopAsia, Monsta X's vocalist Wonho stated the concept of this first album is to represent the pain of being without guidance.
The title track "All In" is an addicting song with intense hip hop beats paired with a heart-stopping music video. The track focuses on a man giving his all in pursuit of a woman's heart. The music video is directed by award-winning director Dee Shin and tells another story; it places the members of Monsta X in a small village and displays their struggles with physical abuse, financial instability, injury and revenge.
The video gained one million views within a day of its reveal and has sparked multiple fan theories regarding its contents.
Prior to the album's initial release, Monsta X treated their audience with a pre-release track titled "EX-GIRL," a song that highlights the emotions of a heartbroken man who regrets losing his lover. Featuring the voice of Korean girl group Mamamoo's Wheein, "EX-GIRL" combines a catchy, smooth R&B beat with soothing vocals and rap that captures the attention and affection of all who listen to it.
The third track "Stuck" is an EDM-esque song about a love interest turning into an obsession. With its powerful beat, listeners will have their hearts bumping in time to the music.
On Aug. 7, Monsta X released a music video for the song, which now has over one million views on YouTube.
The fourth song "White Sugar" is a ballad that compares a beautiful girl to white sugar. The background will encompass the senses and make the listener feel as if she is in a cafe. Its calming melody induces a positive and happy aura and will be sure to leave a smile on any fan's face.
"That's Cheating," another EDM-esque track, is about a man who feels conflicted over his girlfriend's ambiguous actions.
The last title on the album, "Because of You," tells the tale of a boy who, despite experiencing unrequited love, continues to pine over a girl.
"The Clan Pt. 1 Lost" is a mostly EDM-based album with sweet, calming slow songs to balance it out. Those who are fans of EDM or dubstep will definitely find a track that they'd like; however, it may take more than one listen to fully get into the songs. Regardless, it is an amazing album that will have fans excited for the next segment in "The Clan" series.
The album is available on iTunes and is streaming on YouTube and Korean search engine Naver.
Leave a Comment
About the Contributor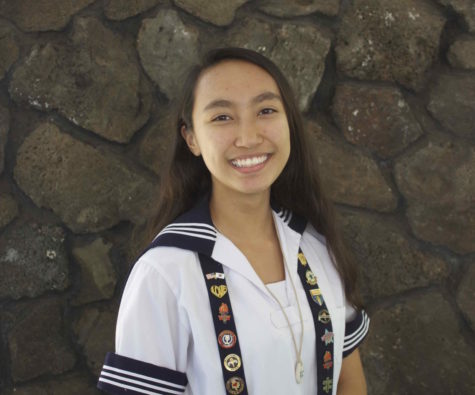 Kailanianna Ablog, Opinions Editor, Reporter
Kailanianna Ablog is a current senior at Sacred Hearts Academy and a third-year Journalism student. She is the president of Korean Club, the Outreach Head...