What comes to your mind when you think of the COVID-19 vaccine? Does it scare you? 
When first hearing about it, I was unsure of whether I wanted to get vaccinated or not. Of course, a typical high school student, like myself, probably won't be able to get vaccinated for a few more months, as Hawaii is in Tier 1C now. However, there had still been a lot of mixed reviews circulating. Some said that getting the vaccine was a way for them to feel safe and have a fighting chance against this virus. Others said they were afraid of the possible after-effects. Side effects of the vaccine can include dizziness, soreness in the area of the injection, headache, nausea, fever, and muscle pain. 
For months, the vaccine was all I would ever hear about–on the news, on social media, everywhere. That's why I think it is an issue that needs to be discussed; not only for the safety of ourselves but for our loved ones as well. 
Even though the vaccine is not the cure to COVID-19, it will still give our immune system a fighting chance to resist this infectious coronavirus. After talking with a few people who have been vaccinated, I've concluded that despite the doubts and fears, it's always better to be safe than sorry.
"From someone who has taken the vaccine, I straddled the line of whether the decision I would make would be the right one or if I would soon regret it," Sacred Hearts Academy sophomore Andromeda Tong said. 
Tong volunteers her time at a hospital. While there, she encountered patients who were also feeling fearful of the vaccine.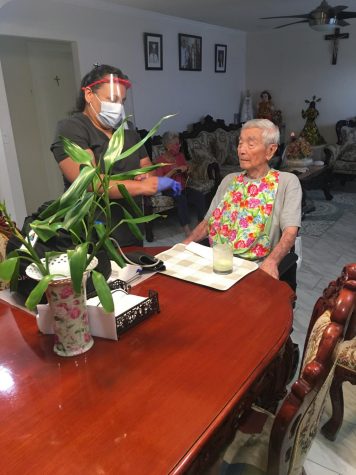 "The COVID vaccine felt nothing short of a flu shot," she said. The different types of COVID vaccines as of now include Pfizer and Moderna.
My mother, Evangeline Billena, is a registered nurse who recently got vaccinated. She also owns a care home.
"Getting vaccinated is similar to taking risks," she said. "As a matter of fact, it is taking a risk. But the best thing about taking risks, in the end, whether it came out how you wanted to or not, you can tell yourself and say that you tried."
My mother has always told me that making a decision is something that can't be taught. You are born with the ability to make decisions, whether it is bad or good, but that is not where the hard part comes into play. 
The hardest card to be dealt with is how you respond to your decision afterward. What will you do to move forward regardless of the outcome? Will, you just mope around and keep thinking about your failed decision or will you continue to move forward in life knowing that you will try harder the next time? 
You decide your future. You decide your actions.