The brisk clicks of high heels echo throughout the halls of Sacred Hearts Academy, as local entrepreneur Shelley Cramer confidently strides toward the conference room. Straightening her business suit, she enters to greet a group of eager female student leaders.
The students are part of a mentorship program called Girls Got Grit (GGG), which she started in the hopes of encouraging high school students from the all-girls school to become leaders in their community.
Through the program–which began last year–students are paired with local women leaders who mentor them in skill building, leadership development and many other areas of business.
"I loved seeing the girls grow from the first day that I met them," Cramer said. "Their self-confidence, presentation skills and professionalism all blossomed during this time frame."
Cramer, who is currently the general manager and vice president of Saks Fifth Avenue, had always envisioned a program like GGG. The ultimate goal, she said, would be for the "leaders of tomorrow" to one day become chief executive officers or chief operating officers in their careers–otherwise known as "C Suite" positions.
"I wanted to find a way to show these girls that they can make it to the 'C Suite' in Hawaii and provide them with an opportunity to meet the amazing women leaders and hear their stories of success," she said.
Working with professionals
So far, about 30 students have been selected to participate in the program, which is split into two phases–mentoring and interning. The mentoring phase includes students learning the backend of business, from writing business proposals to presenting about GGG to local nonprofits and businesses.
In the second phase, students intern with various local companies such as, Hawaii News Now, Kapiolani Medical Center for Women & Children and Alexander & Baldwin.
Senior Taylor McKenzie, who was a part of the GGG pilot group, interned at the Young Women's Christian Association (YWCA) and the Honolulu Museum of Art.
"The biggest impact for me was interning at the YWCA because I didn't realize they were run by women and help women in our community," McKenzie said. "My mentor (at YWCA) was…in love with what she was doing in making a difference in people's lives."
As part of her final project with the YWCA, McKenzie worked with her mentor to write an article on Hawaii's rising rates of female incarceration and programs YWCA offers to help.
McKenzie said the internship has since inspired her to look into nonprofit work as a possible career venture.
Giving back to the community
Cramer, a Honolulu native, chose to work with the all-girls school because of students like McKenzie and her focus on empowering young women leaders.
"The community will get to know that Sacred Hearts Academy has some amazing girls that will be the future women leaders of Hawaii," said Cramer, who is a former Academy student.
Cramer graduated from Gonzaga University with degrees in finance and marketing. While there, she was able to intern with department store Bon Marche. Her internship included working with sales managers and learning "the macro vision of how to run a store."
Since then, Cramer has worked with brands such as, Louis Vuitton and Max Mara. But her dream job, she said, has been at Saks Fifth Avenue, where she is able to work in areas she is passionate about, including business, fashion and customer service.
"I decided I wanted to give back to Hawaii," Cramer said. "I thought that, with all the people that I've met, what a great opportunity to use my networking skills and get them connected with the girls from the Academy."
With years of experience as a prominent businesswoman, Cramer also serves as a GGG mentor.
"(Mrs. Cramer) was a spectacular (mentor)," Academy junior Rin Inuzuka said. "While she was able to maintain a professional relationship, teaching us of the harsh realities and hindrances that we may face in our journey, she also became a motherly figure who we could confide in."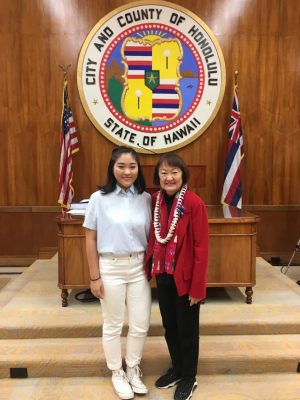 Inuzuka has always been interested in politics. With help from Cramer, she interned with Honolulu Councilwoman Ann Kobayashi.
"I've always been fascinated with the process of making resolutions and reforms," Inazuka said. "It was truly an experience to be able to participate in council meetings and hearings."
When Cramer works with GGG participants, she said that she is reminded of herself.
"It brings back memories," she said. "I love seeing the passion and drive in each GGG student."
Mother as a mentor
As Cramer displays a motherly influence on some GGG participants, she said it was her own mother who inspired her to become the woman she is today.
"(My mom) always made time for me and told me that I could be anything I wanted to be if I was focused and worked hard," she said. "She has a heart of gold, and…till this day, she makes sacrifices to be there for me whenever I need her."
Cramer carries on her mother's wisdom with her own daughters, both of whom attend the Academy.
"I am instilling in my daughters that, if they have the right mindset to achieve a goal (driven with passion and perseverance), they will achieve it," she said. "I am also showing my daughters that it is important to give back to the community in any way you can."
Cramer's eldest daughter, eighth-grader Juliette Cramer, has been participating in an organization called Kidz for a Cause, which strives to raise money for nonprofits that benefit children. She currently serves on the nonprofit's junior board of directors.
"The most important thing that I have learned from my mom is that I should always strive for more than what is expected," Juliette Cramer said. "She tells me that I have to want to do more, if I want to be better."
Having grit
And in order to do more, Shelley Cramer said it all comes down to grit.
"(Grit) has nothing to do with IQ," she said. "It's about the passion you have within yourself to be great, and so I thought that it would be an amazing word to use; hence, the title, Girls Got Grit."
While grit has been an innate characteristic for Shelley Cramer, being a successful businesswoman did not always come easy. She found that her most challenging obstacle was balancing both work and family.
"I knew that my family came first, although sometimes it was challenging due to deadlines and the demands of the job," she said. "However, I learned that if you take the time to…breath and enjoy your family, you will feel well-balanced and your positive energy will be felt by all."
More opportunities for girls
In addition to GGG, Cramer worked with the Academy to create a day-long conference called the STEM Symposium 4 Girls. The event exposed students to trends and careers encompassing not only technology but also science, engineering and math.
"I was able to partner with some amazing women from very prominent companies (like Boeing, Genentech, Carbon 3D, Google and Facebook) to come to Hawaii and share their experience and journey through occupations that normally are male-dominated," she said.
More than 250 middle and high school students attended the event last month, including Academy junior Stephanie Desroches.
"I really enjoyed (the STEM Symposium 4 Girls) because it gave me a broad understanding of STEM activities that companies participate in," she said. "My friends and I were surprised to hear that there were so few women working in these big corporations."
As GGG enters its second year next year, Shelley Cramer said her hope is for the program is to get "bigger and better." But mostly, for "these girls to come out strong and empowered, so after they graduate, if there's an opportunity to come home, they know who to connect with and how to come back into the community."
Last year, local entrepreneur Shelley Cramer helped create a mentorship program at Sacred Hearts Academy called Girls Got Grit. The program allows students to shadow prominent women in the community, as well as intern at places such as Kapiolani Medical Center for Women & Children, Hawaii News Now and Alexander & Baldwin.