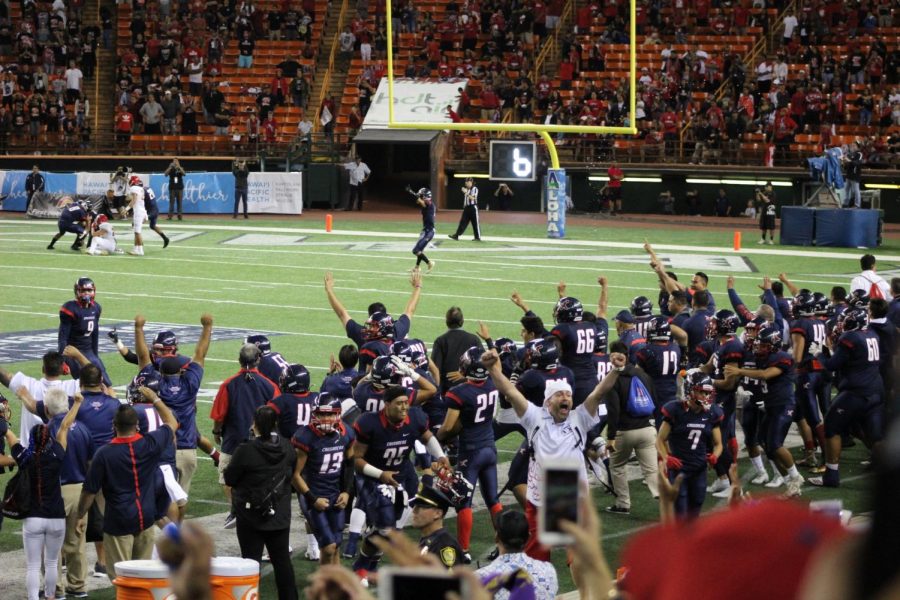 Sacred Hearts Academy students traded in their white and gold apparel for red and blue this past weekend to support the Saint Louis football team during their game against the Kahuku Red Raiders.
For the second year in a row, both teams battled it out for the open division state championship title, with St. Louis coming out on top. The Crusaders won 31-28.
The time leading up to the highly-anticipated game at Aloha Stadium was both a tiring and exciting occasion for players and supporters. The first game of the evening between Lahainaluna and Konawaena for the Division II championships went into seven overtimes, resulting in the delay of the Division I championships between Damien Memorial School and Hilo High School.
The two-hour delay in the start of the Division I game caused the St. Louis and Kahuku game to start later than its initial time.
"Even though the game started late, it was worth it to see them play," Academy junior and Crusader fan Madeleine de Vos said. De Vos, along with her friends, were at the stadium since the second quarter of the Division I game.
Kahuku took momentum by scoring the first touchdown of the game, which deterred Crusader fans but motivated the players to rebound with a touchdown. Thereafter, St. Louis scored two more touchdowns and a field goal, ending the third quarter with a score of 24-14 in favor of the Crusaders.
At the beginning of the fourth quarter, Kahuku came out strong with an immediate touchdown. Crusaders still went strong, as Kahuku would still be behind by three points. Kahuku then scored another touchdown during the last six minutes of the game, in which the Kahuku crowd grew stronger and the St. Louis crowd became discouraged.
When all thought Kahuku would take the victory, at 37 seconds left in the game, wide receiver Jonah Panoke ran a pass from quarterback Chevan Cordeiro, 53 yards to the end zone in a last-minute touchdown for St. Louis. Crusader fans erupted in the stands as the clock ran down with a final score of 31-28.
After the four-hour game ended at 1:30 a.m. Sunday morning, fans of both sides left the stadium proud of their players for playing to the best of their abilities; not only for the game but for the whole season as well.
"Even though (Kahuku) didn't win, I thought they played a good game," Kahuku supporter Malena Wilson said. "We'll definitely be back next year to win."