Hwarang rules over viewers' hearts
Hang on for a minute...we're trying to find some more stories you might like.
In attempt to avenge his friend's death, Kim Sun Woo will go to any length to find the assassin who killed him, while protecting those he loves in a Korean drama titled, "Hwarang: The Poet Warrior Youth."
The historical themed series is based in a country called Silla and focuses on the lives of four elite official's sons, as well as mysterious Ji-Dwi and Sun Woo. The young men train in Hwarang, a group consisting of other elite young men made to protect Queen Ji So and the faceless king, Sam Maek Jong.
The series begins with Sun Woo, who had no name at the beginning of the story, and his friend Mak Moon. They ventured into the enclosed walls of the capital despite being peasants. It was during this time that word got out–of the "faceless king" being nearby. Whoever saw him would be killed immediately in order to keep the king's identity hidden.
While attempting to find his family, who he lost at a young age, Mak Moon accidentally sees the king's face. This earned him an instant death sentence by the queen's commandant. Not knowing the reason he was killed, Sun Woo makes it his goal to find his friend's killer. Mistaking the unknown king as his killer, Sun Woo goes incognito in search of him for revenge.
Sun Woo becomes a part of Mak Moon's family playing the role of the physician's son and a brother to Ah-Ro, Mak Moon's younger sister. Later, he is then recruited to be a Hwarang to train as a soldier and peacekeeper of Silla.
Ji Dwi, who is actually Sam Maek Jong, goes undercover and joins Hwarang as well. This is in order to take revenge against the queen for keeping him hidden from the throne. He pretends to be the Hwarang Chief Instructor's nephew in order to get stronger and take over Silla eventually.
Sun Woo and Ji Dwi along with fellow Hwarang's, Soo Ho, Yeo Wool, Ban- Ryu, and Han Sung bond as friends and protect each other against the evils that await them. The four, who originates from families who either support or disapprove of the queen's reign, evolve as individuals and learn to make decisions not by what their families say, but by their own judgement.
Sun Woo continues to be Ah Ro's older brother until he is found out by Ah Ro and is confronted. Despite having the saddening feeling that she has lost her brother, Ah Ro is relieved that Sun Woo is not her brother, as she had developed feelings for him. The two decide to keep their relationship a secret, which leads to Ji Dwi thinking he can win Ah Ro's heart. However, Ji Dwi fails at every attempt.
Ji Dwi tries his best to conceal his identity but finds it difficult, as Princess Sook Myung is sent in by the queen to manage Hwarang. Having kept habits from his youth, Sook Myung begins to suspect Ji Dwi of being the king.
Sook Myung also begins to develop feelings for Sun Woo, despite knowing she has an arranged marriage with Ji Dwi because he is the king. Knowing Sun Woo favors Ah Ro more than her, Sook Myung finds every opportunity to get rid of Ah Ro but finds it difficult, as Ji Dwi and Sun Woo are constantly there to protect her.
Matters of the king being in Hwarang are brought up to the queen, which unsettles her as his identity might be discovered. She decides to make Sun Woo act as the king to draw attention away from Ji Dwi and uses Ah-Ro's safety to make sure he keeps his word. Soon after, assassins start to target Sun Woo in an attempt to kill the king. As long as Ah-Ro is safe, Sun Woo keeps the act, even though his own safety is jeopardized.
Knowing Ji Dwi has affection for Ah Ro, she is given the ill-fated position as a Wonhwa by the queen so that he cannot be with her. In contempt, Ji Dwi goes against the queen and reveals to the country that he his the real king.
At the same time, Sun Woo is confronted by a man who claims to be Prince Hwi Kyung and Sun Woo's father. Hwi Kyung reveals that Sun Woo is the real king of Silla but was sent away as a child to avoid the queen as she might have attempted to kill him.
Will Sun Woo keep quiet and let Ji Dwi take the throne, despite killing Mak Moon? Or will he find another way to take revenge by becoming the king and change Silla's future for the better?
"Hwarang" is available on KissAisian.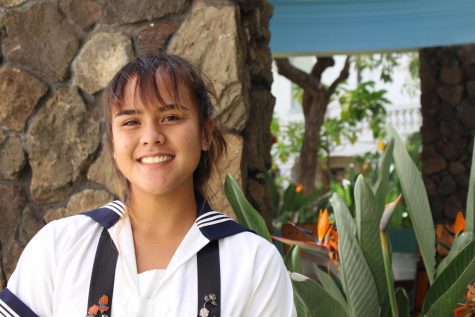 Rebecca Meyer, Features and Sports Editor, Reporter
Rebecca Meyer is a senior and third-year Journalism student. She is also the Features and Sports Editor. Being a journalist to her means being able to...