'Never Walk Alone' with BTS
Hang on for a minute...we're trying to find some more stories you might like.
Korean boy group BTS touches the hearts of many fans with their album titled, "You Never Walk Alone."
The album serves as an epilogue to their previous album "WINGS" and includes four new songs, in addition to the other 15 album tracks of "WINGS." The four tracks include, "Not Today," "Outro: Wings," "A Supplementary Story: You Never Walk Alone" and the title track "Spring Day."
"Spring Day" features an alternative rock audio and showcases each member's vocal abilities, including rap, vocals and harmonization. The lyrics take on a melancholy meaning and describes all of the members' yearn to be with someone special, despite hating that person for leaving.
Throughout the track, snowflakes symbolize time passing, as the members wait for spring to come so they can see their special person again. Despite others saying to forget that person, the members are in denial that their relationship with that person is over and argue whether or not they should forget them.
The music video for "Spring Day" takes place during the winter with no else but the members in the area. Said to go to heaven, a train travels throughout the barren landscape, picking up the members.
In contrast to the slow and sentimental meaning behind the song, the music video takes on an aesthetically-pleasing look and shows the members happily enjoying each other's company. Although there is no official storyline to the video, the setting and plot of the video correlates with the short story, "The Ones Who Walk Away From Omelas" by Ursula K. Le Guin.
"Not Today" uses a more upbeat audio keeping the rock influence but also incorporating electronic dance music. The song discusses self-empowerment and encourages people to never give up despite the obstacles they may face. Even if people are overcome with defeat, the members hearten the mood and tell them to continue on.
"Outro: Wings" stays true to BTS' original style of music with an upbeat audio and dance-influenced beat. The song talks about the members' decision to go against what others tell them to do and how they take pride in their decision to "spread their wings."
Lastly, "A Supplementary Story: You Never Walk Alone" combines the meaning behind both "Spring Day" and "Not Today" and puts it to a slow R&B-influenced track. After the members meet with their special person, they reassure that person that they will forever need them. The person is symbolic, as the member's "wings" and feel that they cannot fly and be happy without that person.
Overall, BTS has produced, yet again, another phenomenal album that touches base with many of today's youth and empowers them through their songs, balancing their dejected feelings with an upbeat audio.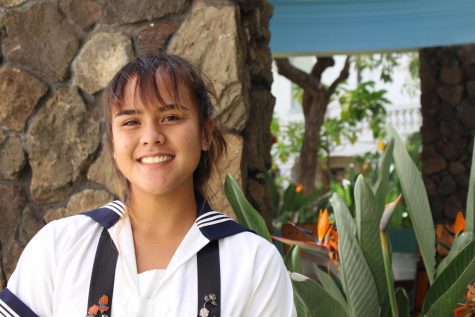 Rebecca Meyer, Features and Sports Editor, Reporter
Rebecca Meyer is a senior and third-year Journalism student. She is also the Features and Sports Editor. Being a journalist to her means being able to...