'Yuri on Ice' warms hearts
Hang on for a minute...we're trying to find some more stories you might like.
Revolving around insecure figure skater Yuri Katsuki, the Japanese anime titled, "Yuri On Ice," warmed the hearts of many viewers with its upbeat scenes and music.
This figure skating themed sports series follows Yuri and Russian figure skating legend Viktor Nikiforov, as his coach, who attempts to draw out Yuri's best in skating. Both he and Yuri bring out different emotions from each other, as they compete to win the gold at the Grand Prix.
In the beginning of the anime, prior to Viktor becoming Yuri's coach, Yuri was a well acclaimed figure skater to the world and idolized Viktor. Suffering from a heart-aching loss in the Grand Prix finals and World Series, Yuri contemplated on whether he should retire from the sport or compete the following year.
Returning to his hometown to visit family and debate his comeback, Yuri decides to go see a friend and skate at the local rink. He skates a piece of Viktor's and without his knowledge, is recorded. The video gets posted online. Viktor, after seeing the video, travels to Japan in hopes of being Yuri's coach.
The topic of Viktor becoming a coach instead of competing catches the attention of 15-year-old Russian skater Yuri Plisetsky, as he was determined to defeat Viktor in his first year as a senior skater. After going to Japan in attempt to bring Viktor back, he returns to Russia empty-handed with a vengeance to beat his opponent of the same name. He and fellow competitors from other countries vie for victories in consolation competitions in order to qualify for the Grand Prix.
Choosing the theme of "love" for his season, Yuri pushes himself to do his best in his programs choreographed by Viktor.  Because Yuri is known to be reserved, Viktor is set on drawing out his true emotions and surprising the crowd by having him skate to "In Regards to Love: Eros."
"Eros" captivates the intense emotions of love in opposition to "Agape," which takes love on a lighter note.
In order to get the most emotion out of the song, Yuri pictures himself as a pork cutlet bowl, which acts as his "love."
As Yuri places in each competition, he develops his skills and increasingly does better in each performance. In addition to his rising accomplishments, feelings between both Viktor and Yuri emerge both in their lives, which becomes evident on the ice.
Over the course of the series, Yuri's love turns towards Viktor as he begins to realize his feelings. He then makes it his target to impress Viktor by attempting Viktor's signature jumps as a surprise.
Realizing Yuri's newfound love, Viktor uses his position as an incentive to motivate Yuri throughout each competition. Threatening to resign as his coach if he does not place in during the last competition to qualify for the Grand Prix, Yuri is both hurt and reassured. Yuri skates with ease, determined to keep Viktor.
Yuri succeeds in making it to the Grand Prix but has yet to win. Viktor again uses himself as Yuri's motivation. Presenting an exceptional short program to the competition, Yuri beats a record of Viktor's earning a high rank. Despite performing well during his free program, he falls short of winning to Yuri Plisetsky. Although unsure whether Viktor will return to be his coach, Yuri is determined to skate again and be with him whether on the ice or in the stands.
"Yuri on Ice" is recommended for all and is available on KissAnime, Crunchy Roll and Gogo Anime.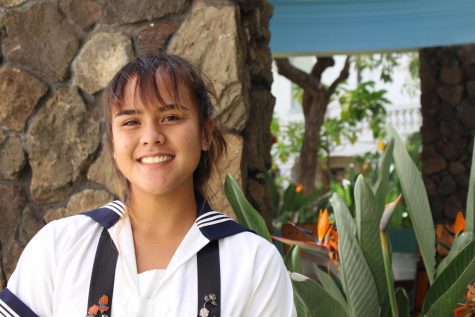 Rebecca Meyer, Features and Sports Editor, Reporter
Rebecca Meyer is a senior and third-year Journalism student. She is also the Features and Sports Editor. Being a journalist to her means being able to...