ASTRO's 'Autumn Story'
Hang on for a minute...we're trying to find some more stories you might like.
Many fans of South Korean boy group ASTRO were excited for the group's recent album release titled, "Autumn Story."
The mini album is the most recent addition to their two previous mini albums themed in the different seasons. The first mini album, also their debut album, is titled "Spring Up" and the second, "Summer Vibes." With this, fans are expecting another mini album for the winter seasons.
Maintaining the groups happy atmosphere, their first song "Lonely" is mostly upbeat and has a dance influence. Although the song is about the sad topic of loneliness, ASTRO uses their positive personalities to make it bearable.
The title track of the album titled, "Confession," puts the members in the position of boys struggling to confess to girl they like. They confess to her through this song and describe their pain as they wait on her to reciprocate their feelings.
The music video released a few days prior to the album release follows the members keeping tabs on the female lead of the video. Seeming unaware of their presence, the girl has her spirits lifted as she feels the positive aura of the members after being rejected. Mixing clips of their unique choreography and individual still shots, fans are left satisfied with a seemingly happy ending.
"Your Love," the third track of the album, takes on a slower beat with a more sentimental meaning. The members talks about how the love they received was enough to keep them happy and that even though the one they loved is gone, they'll keep them in their memory.
The fourth track, "Stained," leans more towards ASTRO's lighthearted ambiance with its upbeat tune. The last track, "Star," on the other hand, keeps the slow beat similar to that of "Lonely." Due to the group and album being relatively new to the K-pop industry, translations to both tracks have not yet been made public.
Giving fans a fresh but familiar sound in their new album, ASTRO leaves many anticipating more music in the future.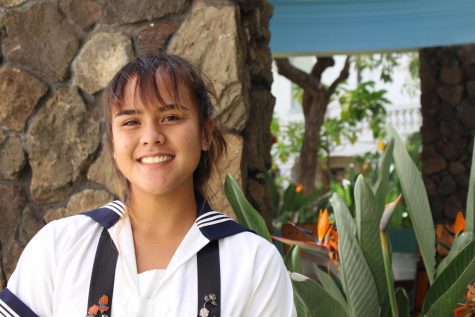 Rebecca Meyer, Features and Sports Editor, Reporter
Rebecca Meyer is a senior and third-year Journalism student. She is also the Features and Sports Editor. Being a journalist to her means being able to...