'WINGS' uplifts
Hang on for a minute...we're trying to find some more stories you might like.
South Korean boy group BTS lifts up listeners spirits with its second full album titled, "WINGS." The album presents 15 tracks, seven of which are solos done by each member. Along with their title track, "Blood, Sweat and Tears," BTS also included part four of the Cypher series introduced in their previous album and mini albums.
The album, as shown by the individual teaser videos, is based off of a 20th-century book, titled "Demian," by Hermann Hesse. "Demian" is a story about Emil Sinclair and the discovery of his inner self brought out by Max Demian, a childhood friend and mentor of Sinclair's. Demian is later revealed as Sinclair's daemon, or god. Deiman, though, was also considered a devil because he leads Sinclair to temptation and evil.
The introduction track, titled "Boy Meets Evil," is a slow-beat song with EDM influences. With vocals being minimal in this song, this track focuses mainly on rap. The song discusses a specific member giving into temptation as a child, which ultimately leads to a dull life. Although being evil, the member shows that he has no remorse for his actions and that the evil deeds he did was too sweet to regret.
On a more upbeat note, title track "Blood, Sweat and Tears" focuses mainly on vocals and had a dance influence. Although having an upbeat audio, lyrics describe each member's submissiveness to someone and their need for that person. The person is described as being a guilty pleasure for each member and is a temptation they end up giving into. Having relations to "Boy Meets Evil," each member does not regret giving into this person despite having negative effects.
The music video equivalent to "Blood, Sweat and Tears" showcases member's smooth choreography, as well as a unique storyline. The setting for the video takes place in a renaissance influenced building, which includes sculptures, furniture and paintings, all of which pertain to the song. The main focus is on member Jin, as he is portrayed as Sinclair and member V portrayed as Demian. In between clips of members indulging in their temptations, Jin is often seen looking lost and confused, as was Sinclair, but V is there to lead him, as does Demian.  
Each member co-composed and recorded solos befitting of their preferences. The seven solos include:"Begin," "Lie," "Stigma," "First Love," "Reflection," "MAMA" and "Awake." "First Love," "Reflection" and "MAMA" are mainly rap and have an R&B influence. The remaining solos demonstrate each members vocal abilities with a wide range of pitches. Each track has a special and unique meaning to each member. All have a slow beat with the exception of "MAMA," which is more upbeat and dance influenced.
"Lost" is a track that puts specific member's vocals to a hip-hop audio. Keeping it themed with the other songs, "Lost" is about the members getting lost and confused on which path they should take. Thinking about which path to take, the members deal with the struggles and overwhelming feeling that they will not succeed.
On the contrary to "Lost," "Cypher part 4" features the rap line of BTS. "Cypher part 4" supports self-acceptance and that being different from others is acceptable.
The next track, titled "Am I Wrong," is an upbeat song with an equal balance between rap and vocals. The main focus of the song is the member's feeling, as if the world is going crazy as well as themselves. They discuss whether or not they'll conform to society or be different from others, even if it means being labeled as abnormal.
"21st Century Girls," an upbeat trap-like song liberates women in particular and portrays them as strong, beautiful and independent beings capable of doing many things.
"2! 3!" is a slow beat song that presents both optimistic and pessimistic points of view. The vocals describe a happiness and hope for better days, whereas the rap counterparts only talk about the negative things said in the past. For the chorus, both views come together to forget about the past and believe that there will be better days.
The last track of the album, titled "Wings," ends the album on a happy note reminiscing about the members youth and being able to do what they wished. Although they are not able to correct the bad actions they've done in the past, they only think about the happiness felt while doing it.
Overall, BTS produced an album of wide variety while supporting their original theme of youth empowerment. Leaving listeners in awe from each member's solo, many look forward to the albums to come. "WINGS" is available on iTunes and YouTube.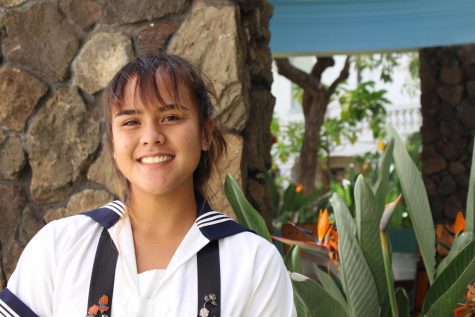 Rebecca Meyer, Features and Sports Editor, Reporter
Rebecca Meyer is a senior and third-year Journalism student. She is also the Features and Sports Editor. Being a journalist to her means being able to...