Mai Poina "Never Forget"
Hang on for a minute...we're trying to find some more stories you might like.
The drive towards the Hawaii State Capitol had been an uneasy one.
"Wouldn't it be strange for Japanese people showing up to a Hawaiian event?" my mother questioned. "If anyone asks, it's for an extra credit assignment," I said with ease. 
Content with my answer, she parked on the side of the Hawaii State Library, admiring the bronze bracelet and lei adorning Patsy Mink's statue at the front of the library.
We were a few minutes early to Mai Poina, a free walkthrough tour of Iolani Palace and reenactment of Hawaii's overthrow. 
I was under the impression that Mai Poina was going to be a quick extra credit opportunity of touring the palace grounds. But as it turns out, it was a chance for me to step back in time and witness Hawaii's history unfold.
At 4:10 p.m. sharp, a small group gathered outside of Iolani Palace. My mother and I made our way towards the group and were pleased to see people of all different ethnicities. I was not able to catch the name of the guide, but I was able to catch bits of her experience on Mauna Kea. She described in great detail what it was like to advocate with fellow Hawaiians against the construction of the Thirty Meter Telescope (TMT). And although she wished to be "back up there" once more, she felt that Mai Poina was her "kuleana," or her duty, to educate those willing to learn about Hawaii's history.
From there, we were herded onto the palace grounds. A woman dressed in an old Hawaiian mumu set the tone for the rest of the play, describing what it was like to be living during the overthrow. Suddenly, a man from the outskirts of the group interjects with anger. Mr. Ah Sing (played by Allan Y. Okubo) describes his frustrations as a Chinese immigrant, who is unable to vote due to foreign policies.
Station one ends with Kaulana breaking into tears at the disparity of the Hawaiian people. My train of thought is broken by the sound of church bells chiming from nearby Kawaiahao Church. 
Throughout the reenactment, I could not help but notice the passion behind each of the actors. The setting on the actual palace grounds made immersion into the story easy to visualize, while the actors pointing out modern locations and connecting them to historical events made the play more relatable. 
At about 4:50 p.m., the group made its way towards the side of the palace. It was an area I had never seen, nor ventured near before. Surprised at the spot, the tour had concluded with a stop at the Queen Liliuokalani statue. This monument held a new meaning to those who understood the history of Hawaii.
Being a high school student, day-to-day life revolves around school work. Driving past Honolulu Hale to see the city lights with my relatives visiting from Japan will always be a highlight in my life. I never felt the need to go out of my way to learn more about the Hawaiian culture. Yes, my mother enrolled me in hula classes in my younger years, but other than that I had no real knowledge of Hawaiian culture. I never thought I would find myself spending a sunday afternoon learning about Hawaiian history but found it to be a very enriching experience. 
For more information on Mai Poina, visit https://www.maipoina.org/.
About the Writer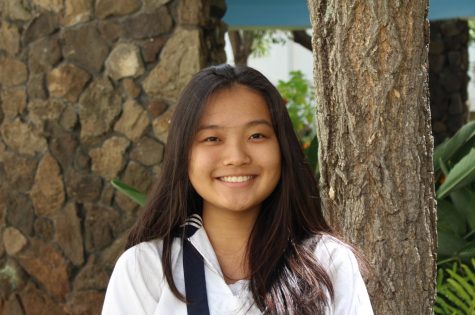 Noe Nekotani, Opinions Editor and Webmaster, Reporter
Noe Nekotani is a senior fourth-year journalist/webmaster/opinions editor for Ka Leo. In her free time, she enjoys listening to music, yoga, and hiking....