Fans get a fresh breath of new Kolohe Kai album
Hang on for a minute...we're trying to find some more stories you might like.
Island reggae artist Roman De Peralta, also known as Kolohe Kai, is garnering attention from both island listeners and those from across the country with his album "Summer to Winter." Known most famously for hits, such as "Ehu Girl" and "Cool Down," Kolohe Kai hasn't released new music since 2014. That, however, didn't stop loyal fans from supporting the recent release of the album.
The first song was released in August 2018, alluding to the album's debut was "Heartstrings," a simple upbeat song that won over fans' hearts with Peralta's soothing voice and sincere lyrics. The track compares love and one's heart to a string instrument, presumably an ukulele, as it is the main instrument heard throughout the track. Since its release, the music video counterpart to the track has earned nearly two million views on YouTube.
"Natural High," the first song on the album and first video to be released following "Heartstrings," follows the sound influence of songs released by other artists, such as Ka'ikena Scanlan. Unlike most of the songs on the album, which focus on people De Peralta cares about, "Natural High" only mentions the ocean and talks about his appreciation for nature.
"Breathe" features a traditional island reggae guitar beat and is the first song on the album to dwell on the different stages of a relationship; this one being the "surreal feeling" that those may feel when being with the one they love. The song further goes into the different feelings of exhilaration and excitement. The "Breathe" music video, like previously released videos for the album, features different locations on the island.
A popular song on the album, "Round and Around," is about challenging the problems life presents and how to grow from those experiences. The music video tells the story of an abusive relationship; the woman leaves with her son and shoulders the responsibility of working two jobs while recovering from her relationship. Although difficult, she is seen enjoying herself despite the hardships she's been through, as well as, has the ability to see the good in others unclouded by her past experiences.
Moving into a slower and different aspect, "It Hurts So Much" talks about a post-break-up scenario in which De Peralta is unable to move on from a relationship. He further goes into not being able to find someone else to move on with, as he is still emotionally invested in his previous relationship. The music video follows De Peralta after a car accident, and as visitors come and go, he feigns happiness until he's alone in his room, where he expresses sadness and emotional pain.
The only other slow song on the album is "If I could Be Superman," which talks about De Peralta acting as moral support and "Superman" figure to the person he cares about. The video rather implies the song, as coming from more of a fatherly aspect, as it follows a family recovering from bringing their daughter back from the hospital.
The album's title track and namesake once again takes a more upbeat and traditional turn. The song talks about the separation aspects of a relationship, and De Peralta's need to be physical with his significant other. He sings about how she brings warmth, happiness and control to his life in both the highs and lows of his day.
Other songs on the album include, "Follow the Waves," "Will You Be Mine" and "Saltwater Sweetness."
Although an album seemingly focused only on a love-sick person going through the different stages of a relationship, "Summer to Winter" brings to fans the nostalgia of Kolohe Kai's signature sound. It also gives them a taste of his new style, while covering aspects of a relationship typically overlooked in music.
"Summer to Winter" is available on iTunes, Spotify and YouTube.
About the Writer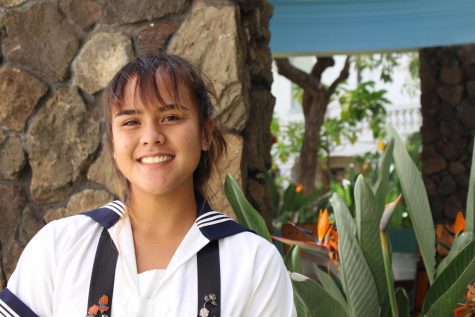 Rebecca Meyer, Features and Sports Editor, Reporter
Rebecca Meyer is a senior and third-year Journalism student. She is also the Features and Sports Editor. Being a journalist to her means being able to...