A women's gathering for equal rights
On Jan. 21, crowds of people gathered from 10 a.m. at the Hawaii State Capitol to march for women's rights.
The 2nd Annual Women's March began with speakers, which then later commenced to the actual march. From the State Capitol, the ambitious advocates marched along Richards Street, passing South Beretania Street and returning to the starting point.
The march was created on Facebook last year by Maui local Teresa Shook. This page along with several other pages linked within it gave marchers more information on the itinerary of both the Hawai'i State Capitol march and several other marches throughout the nation of America.
Protesters followed Shook and marched to fight against President Donald Trump's inauguration. According to marchers, they are protesting against the President's action and words throughout social media, demean women and other minority groups.
Women and men across America stood against the inequality of women who are still deprived of their rights today.
After the #metoo movement, which demonstrated a widespread problem of sexual harassment and assault, countless more are speaking up to the power imbalance not only in Hollywood but also for the everyday American women who are not given equal rights and respect.
"Don't be afraid to speak your truth and have your own opinions," Sacred Hearts Academy English teacher Chloe Smith said. "If you believe passionately about something, believe in that passion and speak that passion and find something that you value."
About the Writer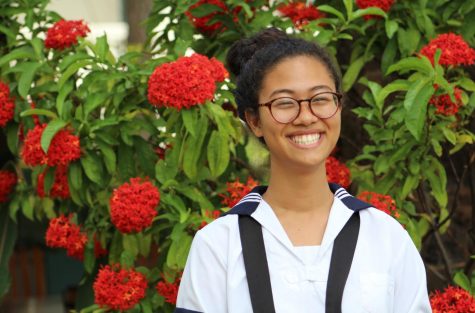 Jasmine Matsumoto, Reporter
Jasmine Matsumoto is a proud junior of the Sacred Hearts Academy. In her free time she creatively expresses herself as an artist who plays ukulele and...