Healthy, happy picnic options at Tucker & Bevvy
Hang on for a minute...we're trying to find some more stories you might like.
After a day of exploring Waikiki, customers at Tucker & Bevvy can enjoy a nutrient-filled sandwich or wrap, paired with a refreshing smoothie or cold-pressed juice.
The eatery offers a variety of grab-and-go, picnic-style foods for customers looking to spend the day at the beach, park or zoo. The Honolulu Zoo and Kapiolani Park are both located across from the corner eatery. Waikiki Beach is directly south of it.
Tucker & Bevvy opened on Oahu four years ago and is currently expanding. Its first location was in Sydney, Australia.
"My favorite part (of my job) is meeting new people from different countries," an employee at Tucker & Bevvy said.
The company's mission is to supply fresh, organic local foods that are not only delicious but also healthy. The eatery does not use any additives or preservatives. It also tries its best not to use processed ingredients in its dishes.
Prices of food items range from $4.50 to $9.50, while beverages can cost anywhere between $4.50 to $8.50.
"We want (customers) to have the wowing factor, where they…would think about their next meal here," the employee said.
Tucker & Bevvy is located at the Park Shore Hotel, 2586 Kalakaua Ave., and opens daily from 6 a.m. to 7:30 p.m. For more information, visit http://tuckerandbevvy.com/.
About the Writer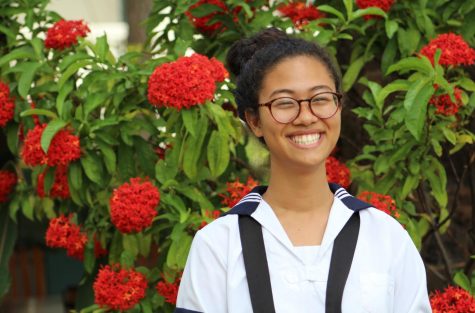 Jasmine Matsumoto, Reporter
Jasmine Matsumoto is a proud junior of the Sacred Hearts Academy. In her free time she creatively expresses herself as an artist who plays ukulele and...