Altogether Now: 'Hairspray!' Wow!
Hang on for a minute...we're trying to find some more stories you might like.
With the current political atmosphere fueled by racial tensions, many agree that a show like "Hairspray: The Broadway Musical" could not have come at a better time.
The Tony Award-winning production can be seen every weekend, until March 19, at Saint Louis School's Mamiya Theatre.
"I know we've come so far, but we've got so far to go," sings the "Hairspray" cast. "I know the road seems long, but it won't be long 'till it's time to go."
"Hairspray," set in 1962, tells the story of of Tracy Turnblad, a plus-sized teenager who dreams of dancing for the local dance television station, "The Corny Collins Show." On her road to stardom, Tracy befriends a group of African-American dancers, and together, they try to bring racial equality to the show.
"The musical is humorous, fast-paced and entertaining at a surface level," said Sacred Hearts Academy junior Alana Glaser, who plays the part of Lou Ann, a dancer for "The Corny Collins Show."
"But underneath, 'Hairspray' has deep and touching themes regarding racism, acceptance and resilience," she said. 
The actors and actresses from St. Louis and the Academy have been hard at work to make this musical a success. Often rehearsing to the late hours of the night, it has been difficult for students to keep up with their school work.
"I rarely have time after school to complete homework before rehearsal, which ends at 10:30 p.m. every night," Glaser sad.
"Hairspray" proves to be more than a race against time. Even the most experienced actress may fumble with the complex dance numbers performed in this musical.
In the song "Nicest Kids in Town," the so-called "nicest kids in town" show off their dance moves to the upbeat tune.
One of the dance moves featured in this song is "The Twist." Originally performed in the 1960 Billboard number 1, "The Chubby Checker," this move involves twisting one's body back and forth. It became famous in the opening number of "Hairspray."
"There is a ton going on in this production when it comes to singing and dancing and learning everything," junior Mahea Sims-Tulba said. "It takes a ton of time and effort, and sometimes it can be frustrating."
Sims-Tulba plays the part of Motormouth Maybelle, the high-spirited host of "Negro Day."
Those who have watched the production say it will move the audience towards activism and that there is no denying inspiration from Tracy's story.
"Hairspray" is a reminder that each action, even making a television show more racially diverse, is a huge step in reaching a more racially-accepting society.
This production comes at a time of particular importance, play-goers and actors say, not only because of the current political atmosphere but also because of Black History Month, which was celebrated last month.
"The general story about integration…a young girl following her dreams and some really fun dance numbers (are aspects) that everyone will love," Sims-Tulba said.
About the Writer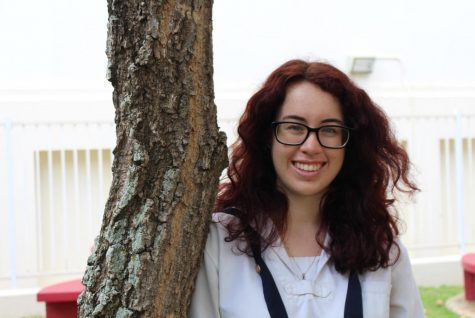 Taylor McKenzie, Webmaster, Reporter
Taylor McKenzie is currently a senior and a second-year Journalism student. She is the Vice President of Student Council, President of PAAC Club, member...