LIFE Week: From a LIFER's Point of View
Hang on for a minute...we're trying to find some more stories you might like.
This was it.
All the anticipation, anxiety and excitement has lead up to all of this: LIFE Week, one of my favorite Academy traditions.
From the time I was a "tiny but mighty" freshman back in 2013 to today, a still tiny, slightly mightier senior, I've always had this feeling, a slight flutter in my chest if you will, about LIFE Week, a four-day school school week celebrating LIFE–a "Living in Faith Experience."
This fun-filled week is planned entirely by the LIFE Team, comprised of a group of 12 seniors who play important roles in the Academy's Campus Ministry, focusing on an important theme discussed at the annual LIFE retreat during the summer.
And now, it was my turn to help plan it.
Late last school year, I was given the amazing opportunity to be a member of the 2016 to 2017 LIFE Team. This means that I was able to attend the annual LIFE retreat in Occidental, California, meet amazing people from Marianist high schools on the mainland, bring back valuable lessons about faith and love to share with my community, and most important of all, I was able to grow closer in faith with eleven other remarkable seniors that I am proud to call my LIFE Sisters.
Every three years, the LIFE program changes its focus, a theme that it tells its LIFE teams to raise awareness for when they return to  their home institutions. Like last year, this year's LIFE focus is human trafficking; in correlation with the theme, the LIFE Team decided to name the week "LIFE A.L.E.R.T," an acronym for "Allow Life Everywhere, Resist Trafficking."
The four days that we had to plan, though quick to pass, was the execution of two of the most busiest weeks in my 18 years of life so far.
But was the long days and nights of worried planning and racing thoughts worth it?
Most definitely.
Monday, Jan. 30: Lancer Christian Community (LCC) – "Have Faith, Give Faith."
In connection with Catholic Schools Week, which fell on the same week as LIFE Week, we planned a LCC, or "Lancer Christian Community" meeting, that centered around faith. LCCs, held during lunch, are meetings that the LIFE Team holds for students who would like to enjoy fellowship, faith and food (LIFE Team caters for these events!); for this LCC, I brought a mason jar full of sweet treats, like Snicker bars, Tootsie Rolls, grape-flavored Hi-Chew and Japanese plum candies. The other members brought other delicious morsels, such as cheesecake brownies, spinach dip and chicken katsu; needless to say, we ate very well that day!
LIFERs Shelly Anne Aquino and Katherine Hennion took the lead for the LCC, coming up with the theme "Have Faith. Give Faith," with the intention to help attendees answer their call to live a life of faith, to have believe in themselves and  recognize their self-worth. I thought this idea was brilliant for a few reasons. For one, one of LIFE Team's main objectives is to help their community with its faith journey.
What I find so beautiful about the LIFE Program is that it does not pertain only to Marianists or Catholics; it welcomes all people and calls them to live, if not religiously, morally and respectfully. Teenagers often do not have a clear sense of who they are, given that we are still in the verge of young adulthood and surrounded by a factor of unknowns, like college and insecurity about the future. It is incredibly important to step back, reevaluate our lives to make sure we are where we want to be and give ourselves a break from life's fast lane.
For the LCC activity, we cut out hearts and wrote our burdens and negative thoughts we carry. Afterward, we tore the hearts in half, symbolizing the release of said negativities and, on a piece of tape, wrote positive reinforcements and used it to tape our hearts back together, thus fixing them.
Although it was a small activity, its effects were profound. A fellow LIFER, Brianne, had walked up to me, looked at what I had written on my heart and immediately disagreed with what I had wrote; I nearly cried. She reminded me that, as cliche as it sounds, for all of life's ups and downs, there are people, good people, that are riding the high tide and surviving the low tides with you, even when you think you're alone.
Tuesday, Jan. 31: LIFE Assembly
"Oh, I don't know…volleyball, dodgeball, kickball, Jump Rope Relay–gosh dangit." I looked down at the hastily scribbled words on the palm of my left hand and squinted at my small handwriting.
It was the day for the LIFE Assembly, one of the two major events of the week, and there I was, standing on one end of the basketball court struggling to remember my lines for the skit. I was the first to go onstage, beloved "L1" on the script, and I wanted to make sure I did a good job.  
I have performed and delivered speeches in front of the upper school before, so acting out a skit wasn't going to be difficult; however, I still worried.
The skit had actually come a long way since we first started writing it. The skit script was a project Shelly and I worked on; an issue we kept running into was how to incorporate human trafficking into the mix. We wanted to make the skit light-hearted so that everyone could enjoy it, but human trafficking is the opposite of that.
In the end, we decided to do a skit that analyzes different scenarios of human trafficking and facts. We had a trivia game at the end to test the audience's new knowledge.
Prior to the skit, we had an amazing Lion Dance to commemorate the Chinese New Year. The music had my heart-pounding and watching the vibrantly colored lions dance around the gym and the students' excited reactions to them brought a smile to my face.
"This is what a community looks like," I remember thinking. "It's amazing to see everyone so happy."
LIFE Team wanted everyone to have fun, and at that moment, it seems that our only hope was achieved–and it felt great.
After the dance and skit, we played a relay and ended the assembly with our theme song "Be One" by Natalie Grant.
Whenever I hear that song, my skin erupts in goosebumps, and I become nostalgic; back in Occidental, we'd dance to that song at least once everyday. Nothing but good memories are associated with it. While LIFE Team danced onstage, groups of students stood up and danced along with us. The energy was invigorating and for a moment, I was back in Occidental with my newfound friends from the mainland.
Wednesday, Feb. 1: Information on LIFE Walk
On Wednesday, LIFE Team sent out information about LIFE Walk, the Academy's annual walk to Palolo Park. LIFE Walk is a field day that encourages the student body to get active and have fun.
Thursday, Feb. 2: LIFE Walk
The pinnacle of LIFE Week, LIFE Walk is looked forward to by everyone at Sacred Hearts Academy. Besides the walk, a nice change from the usual car or bus ride, students are able to play games with their classmates and enjoy a nice sunny day at the park. We also were able to get a Snapchat geofilter, which was really awesome!
This year, the one thing I was looking forward to the most was the water balloon toss.
Or, more specifically, prepping for it.
Armed with a box of Bunch O Balloons, my friend Elane, also a fellow LIFER, and I bent over an empty bucket  as we failed to successfully screw on the base of a pack of balloons to the hose. Water was merciless, going for our faces as a reminder that filling balloons was never an easy task.
Once the prep for the water balloon toss and the other games were done, I ran up to greet the students as they entered the park. We had a huge speaker that was playing music from the radio; while my fellow LIFERs waved our handmade division flags to get people excited,
I was jamming out and high fiving everyone as they walked in.
Once everyone was at the park and the games began, I was on photo duty with Chami, a laminated cartoon version of Father Chaminade, one of the founders of Marianism. The LIFE Team received Chami from Central Catholic High School, a fellow Marianist LIFE school. With Chami, we were to take photos, showing the various activities our LIFE team does. We place the photos in a journal, and we sent Chami off to the next Marianist LIFE school!
Needless to say, I think I had a bit too much fun taking photos with Chami. Can you blame me though?
At the end of LIFE Walk, everyone at the park took a group photo together and walked back to school, where we enjoyed lunch and relaxed for the remainder of the afternoon before our early dismissal.
All in all, LIFE Week was a flurry of activities, great memories and necessary stress. It was an amazing thrill to plan such a huge event for school, and I will definitely remember it.
As LIFE Week is one of the last events for LIFE Team to plan, it is bittersweet. Marianist LIFE has done so much for me, and while my LIFE journey will come to an end as the next LIFE Team is chosen this March, I will enjoy the remainder of my time as a LIFE Team member and continue to promote a community of faith and positive change.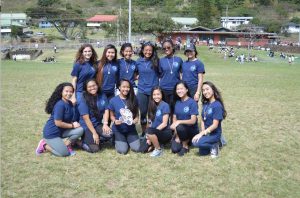 Proud to be a member of the SHA LIFE Team 2016 -2017!  Photo Courtesy of Kiarah Gomard.
About the Writer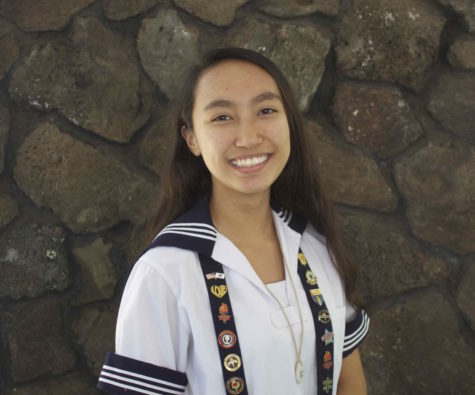 Kailanianna Ablog, Opinions Editor, Reporter
Kailanianna Ablog is a current senior at Sacred Hearts Academy and a third-year Journalism student. She is the president of Korean Club, the Outreach Head...