Behind-the-scenes of 'Hawaii Five-0'
Ever wondered what happens behind-the-scenes of your favorite television shows?
Students from Sacred Hearts Academy's Video Productions/News Broadcast class got a chance to see what goes into the making of "Hawaii Five-0" last week. They toured the set at Hawaii Film Studios during an off-campus field trip.
Typically, fans selected through a Hawaii Five-0 auction are able to experience such a tour. However, the student tour was vamped up to include production insight. The show's stage managers explained everything from lighting to special effects.
"This field trip was an invaluable experience for my students," teacher Alyssa Myers said. "It gave them a look into the real-world of filmmaking and hopefully inspired them to one day be a part of similar large-scale productions."
During the tour, students also found out interesting facts about "Hawaii Five-0." For instance, in scenes at the morgue, actors always open the same refrigeration unit door because the others units do not actually open. To convey the chilled temperatures coming from that unit, producers use dry ice.
"Seeing what actually goes behind making one episode of 'Hawaii Five-0' was so intense," senior and aspiring filmmaker Kayla Manz said. "And being on a real TV set just made me excited."
The students looked forward to walking through familiar sets from the show, including the forensics lab, medical examiner's room, interrogation room and McGarrett's house. They also toured the wardrobe barn and construction mill.
Additionally, the students learned about different opportunities to working in Hawaii's film industry.
Hawai'i Five-0, a Hawai'i-based television series, follows a small police task force in Hawaii. Leader of the Five-0 force Steve McGarrett (Alex O'Loughlin), along with his team, travel throughout the state to investigate various crime cases, from kidnapping to terrorism.
About the Writer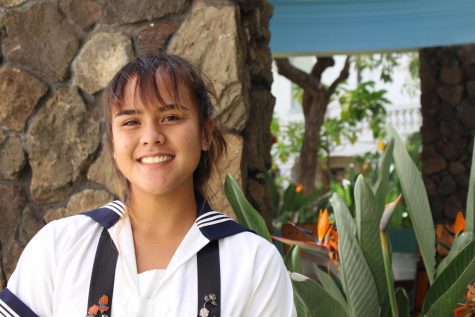 Rebecca Meyer, Features and Sports Editor, Reporter
Rebecca Meyer is a senior and third-year Journalism student. She is also the Features and Sports Editor. Being a journalist to her means being able to...