Yamamoto finding her stride in collegiate golf
Hang on for a minute...we're trying to find some more stories you might like.
Sacred Hearts Academy alumna Zoe Yamamoto is already making a name for herself, as a freshman golfer at Franklin Pierce University. Early in the school year, she was twice named Rookie of the Week and Golfer of the Week.
In a Kutztown tournament last month, Yamamoto was the driving force behind the Ravens' win. She earned her first-ever medal and top-five finish, as she shot a 154 (+14).
Yamamoto was also the leader in par four scoring, averaging 4.46 (+11) as she led total pars with 23.
For Yamamoto, who excelled at both basketball and golf while at the Academy, the collegiate recognition took hard work and focus. She recalls one collegiate match, in particular, that really helped put things into perspective for her.
"It was on our home course, and all the parents were there, except for mine (because) my family is too far to…watch me," she said. "I played my round but didn't fare too well because I was very homesick."
After reflecting on that tournament, Yamamoto said she was able to regain confidence.
"From that tournament on, I never shot above that number ever again," said Yamamoto, who is attending Franklin Pierce on a full golf scholarship.
Academy Athletic Director Ryan Hogue, who also coached Yamamoto in basketball, is proud of the former Lancer.
"It is great to see that Zoe is finding her stride and achieving success on a high level," he said.
In addition to golf, Yamamoto enjoys playing basketball.
"I love the adrenaline rush that I get everytime I step on the court," she said.
She played basketball during most of her childhood. Her passion for golfing came later, when she soon realized how well she was able to play.
Throughout her high school career and the start of her athletic success in college, Yamamoto said she could not have done it without the constant support of her family.
"They have done everything they can to get me to where I am," she said, mentioning that her father would take her to the golf course to practice her technique and set her up to practice with a private instructor year round.
About the Writer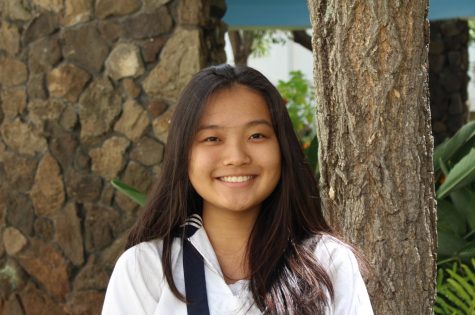 Noe Nekotani, Opinions Editor and Webmaster, Reporter
Noe Nekotani is a senior fourth-year journalist/webmaster/opinions editor for Ka Leo. In her free time, she enjoys listening to music, yoga, and hiking....