Homeroom Halloween Decorations
Noe Nekotani, Reporter
November 8, 2016
Hang on for a minute...we're trying to find some more stories you might like.
Breaking away from the old tradition this year's halloween celebration kicks off the year with a new surprise from SHA. Classrooms are to decorate homerooms in accordance to the rules set by the school's life team, the class who wins the competition is rewarded with a pizza party provided by the school, homerooms are to run for the following categories… Scariest, Creative, Resourceful and Judges choice.
This new change has been given positive feedback from many of the teachers and students, "Decorating the homeroom allows for more creativity," said AP Physics teacher Mr. Lyons. Many students were seen partaking in decorating the classrooms "It seemed like the whole class was involved," said Physics teacher Ms. Zaniboni.
The theme's for homerooms varied from a Freak Show to the popular horror series "Stranger Things." Clown mannequins can be seen peeking through Mr. Lyons classroom as well as inside of the classroom, "Our theme relates to now because of how clowns have been popping up around the world," said Lyons moving to the other classrooms Ms. Zaniboni's class had gone all out in showing the school the essence of the series Stranger Things the students had taken a lot of initiative even coming in during their free time to help out and decorate, "My students were proud," said Ms. Zaniboni. The new change in tradition has definitely brought up a sense of community amongst the students.
About the Writer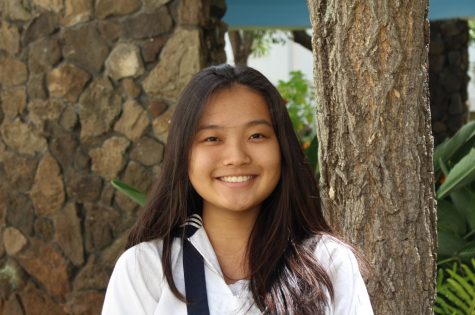 Noe Nekotani, Opinions Editor and Webmaster, Reporter
Noe Nekotani is a senior fourth-year journalist/webmaster/opinions editor for Ka Leo. In her free time, she enjoys listening to music, yoga, and hiking....