The Academy gets 'Thoroughly Modern'
Hang on for a minute...we're trying to find some more stories you might like.
Students from Sacred Hearts Academy and St. Louis will soon provide their spin on a six-time Tony Award-winning production. Mamiya Theater's Fall musical, "Thoroughly Modern Millie," depicts the story of one country girl, Millie Dillmount, and her journey navigating the streets of New York during the 1920s.
Her modern adventure, full of fashionable bobs and aspirations of marrying a rich businessman, is told through the unique combination of jazz music and tap dancing.
Academy junior Alana Glaser plays the part of Millie.
"It's a really fun show," she said. "There's a lot of musical numbers, like jazz and tap."
Much like the people Millie interacts with, this story is more than what meets the eye. As the character becomes accustomed to a contemporary lifestyle and struggles with the complexities of first love, her new home harbors a dangerous secret; one that is threatening the existence of Millie and her friends.
While this musical may seem like a simple coming of age story, those involved say it is sure to shock viewers with its approach to thoroughly-modern problems. Not only is the story cutting-edge, but the way it is portrayed is avant garde for typical Mamiya musicals.
"Every production is different," director Kyle Kakuno said. "We've been adding video design as part of special effects to our productions recently, and we're exploring the use of a central control system for 'Millie,' which we've never tried before."
Kakuno, who has been producing musicals at Mamiya for 25 years, said this year's Fall production was a long time coming.
"'Millie' was a show I wanted to do about 10 years ago," he said. "It's one of those shows that requires certain characters' level of talent, and you really can't choose it unless you can fill those requirements. I felt that we could this year, and so we decided to pull the trigger on it."
But what goes into the production of a musical?
"It takes a lot of effort and a lot of dedication because there are so many rehearsals," Glaser said. "You have to spend a lot of time out of rehearsals going over your lines and getting to know your character."
From a production standpoint, "Every production deals with the same phases, including auditions, casting, rehearsals, set design, lighting design, sound design, costume design and with musicals, choreography and musical direction."
The production will be at Mamiya Theatre, on the St. Louis campus, from Nov. 4 to 13. Tickets are available at http://sacredhearts.org/tickets.
About the Writer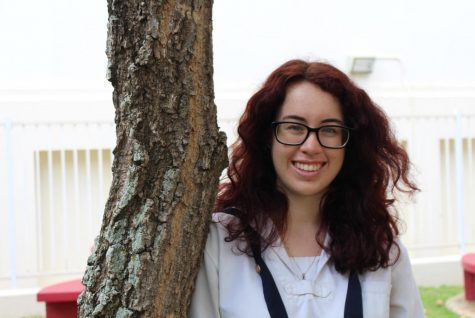 Taylor McKenzie, Webmaster, Reporter
Taylor McKenzie is currently a senior and a second-year Journalism student. She is the Vice President of Student Council, President of PAAC Club, member...