KEEPING UP WITH: Richard Atsatt, Facilities Manager
Many describe Sacred Hearts Academy's head of maintenance Richard Atsatt as the school's go-to guy. From setting up for events to beautifying the campus with foliage and flowers, he does it all. But what most do not realize is, outside of school, he does even more—as an award-winning artist who has been coloring the local art scene for the past several years.
"(I started painting) because I thought it was a good way to express myself," said Atsatt, who first picked up a brush when he moved to Hawaii five years ago. He
attributes this stroke of inspiration to his background and passion for landscape designing.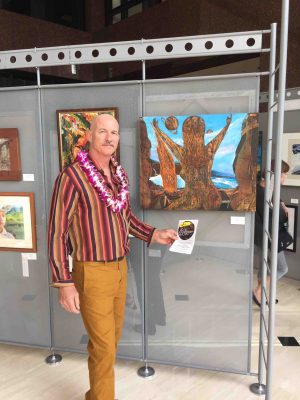 Recently, Atsatt was featured in the 2016 Association of Hawaii Artists (AHA) Contemporary Show, where he walked away with Best in Show award for his piece titled "Blackwater." He describes the winning painting as an abstract representation of a school of fish that might be quickly swimming by. It uses a "monochromatic and texture-filled style," he said, referring to the wood look and texture of the painting.
"Everything went right with this piece," he said, emphasizing a "no planning" process. This process involves him merely putting paint on a canvas and moving it around in various directions until he is satisfied.

"I never paint anything deliberately," Atsatt said. "I waited for the painting to take shape on its own."
It's the same advice he shares with student artists aspiring to explore more in the world of art.
"Everyone has their own way, and once you find it, play to your strengths, and just go for it," said Atsatt, encouraging students to go forward with art and have fun with it to see where it takes them.
His work will be displayed at Honolulu Hale from Oct. 6 to 14, as part of the Asian Pacific Arts Consortium Juried Art Show. For more information or to see his work, visit his website www.richardatsatt.com.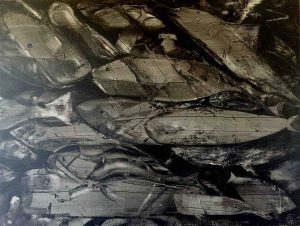 About the Writer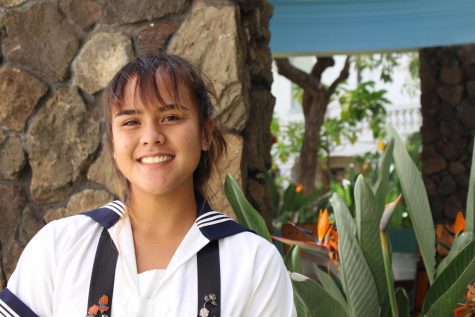 Rebecca Meyer, Features and Sports Editor, Reporter
Rebecca Meyer is a senior and third-year Journalism student. She is also the Features and Sports Editor. Being a journalist to her means being able to...