Leap of faith can prove daunting, but rewarding
Hang on for a minute...we're trying to find some more stories you might like.
It's scary to do something for which you don't know the outcome. It certainly makes one  vulnerable. Despite my fears, I took a leap of faith and the outcome was worth the effort.
Prom was just around the corner and the hype of finding a date spread throughout the junior class. I knew I wanted to take someone, but I didn't know who or how to ask.
After talking to my friends and parents, I decided on a friend I've known since middle school. The problem was: How was I going to ask him?
The thought of opening myself to rejection and embarrassment made me second guess my plans. It was definitely a game of chance.
I planned to meet him one day with some friends at Pearlridge. I wasn't going to do a "promposal" because there was a chance he'd say no, and I didn't want to make the situation more than what it was. I wanted to keep things simple.
Unexpectedly, his mom's appointment finished and he had no choice but to leave.
I was running out of time. As we waited for his dad to pick him up, the pressure of asking him was almost unbearable. It was now or never.
I mustered what little courage I had and asked. I held my breath. He looked at me and said, "Yeah."
I was taken aback. I had been positive he was going to say no because prom wasn't something he'd normally go to. I was wrong.
We talked a bit after the awkward exchange. I told him the few details I knew about prom and said I'd text him more details. Then, he left.
I felt incredibly relieved. He'd said yes despite the high chance of saying no. A huge smile spread on my face the rest of the day.
If I hadn't mustered up the courage to ask him, I'd be going to prom with no date, wondering what would've happened if I'd taken the chance.
Not knowing the results of taking risks is difficult to handle. It leaves one susceptible to hurt pride and  humiliation.
I learned that taking a chance is worth the effort and doubts. It's scary not knowing, but that's what makes it so rewarding. It's better to know than to wonder what could have been.
About the Writer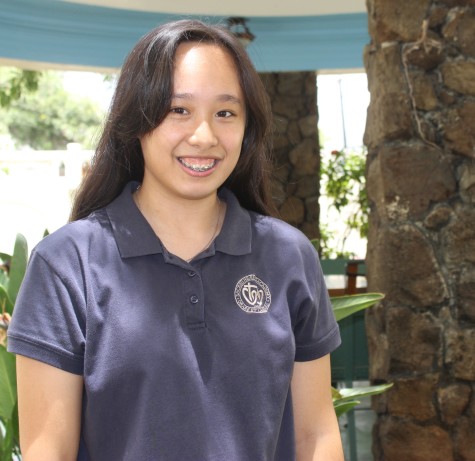 Mariko Galton, Entertainment Editor, Reporter
Mariko Galton is a junior and third-year member of Ka Leo. Outside of school, Mariko is part of Saint Louis School's JROTC program. In her free time,...