Cinnamon seasons palate with possibilities
Hang on for a minute...we're trying to find some more stories you might like.
Cinnamon is a flavor favorite for many.
The sweet and savory spice comes from the bark of trees from the genus "cinnamomum" and has been a popular seasoning since Biblical times. Egyptian Queen Hatshepsut even used it in her perfumes!  
According to the U.S. National Library of Medicine, cinnamon can be used to treat the common cold, spasms and vomiting among other ailments.
Cinnamon is often sprinkled on whipped cream and can be found in many delicious desserts.
Passionate ice cream lovers will find a unique flavor in Cinnamon Ice Cream. Made with cream, eggs, vanilla extract and ground cinnamon, this refreshing dessert is perfect for any season. The ice cream can help ease the burn of summer heat and goes well with autumn treats like pumpkin pie and fruits.
Those with an affinity for waffles with find a quick-fix for cravings thanks to Cinnamon Sugar Waffle Fingers.  The recipe is simple: one frozen waffle, unsalted butter, sugar and cinnamon. Cut the waffle into sticks and melt the ingredients together in a skillet. Once the sugar and cinnamon reduce to a liquid, add the waffles and cook until caramelized. This treat will be sure to warm the hearts of anyone who consumes it!
Another dish that spices up a celebration is Churro Truffles. Melt together white chocolate chips, cream cheese and heavy cream on the stove or for 30-second bursts in the microwave. Once smooth, stir in the vanilla extract, cinnamon and brown sugar and put the mixture in the fridge. Next, use a food processor and mix graham crackers, more cinnamon and white sugar. Take out the chilled mixture and roll it into balls and cover in the cinnamon-graham cracker coating. The result is a scrumptious and aesthetically pleasing dessert.
Cinnamon takes on a quirky, innovative form as a Cinnamon Sugar Tortilla Bowl. Made with flour tortillas, softened butter, cinnamon and sugar, this recipe yields six sugar bowls perfect for clean, tasty eating. Spread thin layers of butter on both sides of a tortilla. Mix together cinnamon and sugar and sprinkle it over the mixture over the tortilla. Once all tortillas are coated, form them into bowls and place them into sprayed ramekins. Bake for 17 to 20 minutes and cool completely before serving. Fill the bowl with ice cream or some other sweet treat.
Cinnamon has become a favorite but it doesn't just mean pumpkin pie.  Whether it is a coating over whipped cream or a flavor of cake, cinnamon will continue to earn its place in a family's spice cabinet.
About the Writer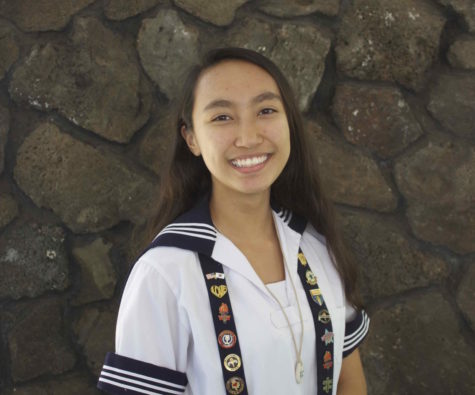 Kailanianna Ablog, Opinions Editor, Reporter
Kailanianna Ablog is a current senior at Sacred Hearts Academy and a third-year Journalism student. She is the president of Korean Club, the Outreach Head...