Winter athletes continue rise to top
This year's winter sports season has proved to be highly successful with several teams and individuals going on to state competitions.
Athletic director Ryan Hogue said, "One thing we are trying to do is to increase pride by recognizing students for their outstanding performances. We also focus on developing leaders and help students to understand dynamic traits."
Successful athletes in the winter season included precision air riflery, swimming, wrestling and intermediate soccer teams in ILH championships after which some athletes qualified for states.
Although inexperienced, new freshman shooter Dorothy Sanidad qualified for various state championships.
Sanidad said, "My success in the sport as a freshman came as a big shock to me. I never expected to make it onto the varsity air rifle team in my first year, let alone place 3rd in the ILH Varsity Championships and be the state qualifier for the Junior Olympic Rifle Championships (JORC) which will be held in Colorado Springs, Colorado, at the Olympic Training Center next month."
Sanidad is aiming for a shooting scholarship at the University of Nevada Reno (UNR) or Ohio State University.
Three-year veteran shooter junior Angelique Mara also competed in the ILH championships and continues to be victorious in the sport. She too will attend the Junior Olympics Championships with Sanidad in April.
Mara said, "I feel that over the past year, I have greatly improved my shooting by almost 15 points compared to my average from the previous school year. I am prouder of my team's success than my own because we have all worked so hard and we practiced together really well as a team."
Sanidad placed third while Mara placed fourth in the overall precision air riflery championships.
The varsity wrestling team was also triumphant in the ILH championships placing 2nd out of 7 teams.
Although junior Karly-Lou Ayano did not take home the big win, she is content with her accomplishment and expresses her gratitude to her coaches and team members.
"I feel that there is always room for improvement. Nonetheless, I would not have gotten to the point where I was without the help of my teammates and coaches. They motivated and continuously reminded me to strive higher than I expected to go. I never expected to place 8th out of 16 girls within my first year of wrestling, but I'm very happy with the outcome," said Ayano.
The intermediate soccer team performed spectacularly as well.
Freshman co-captain Chanel Yee said, "This intermediate season was a success and well deserved. As well as our wins, we accomplished things on and off the field. During the season, we were all able to connect with one another. It was such a joy to see some of the freshmen making conversation with the seventh graders. We were able to communicate well with our head coach. I am so grateful for the intermediate soccer program, and I am glad to say that it is what I looked forward to most every day — seeing my teammates on and off the field."
The swim team also continued to advance past the regular season.
Senior Hallie Pound excelled in long distance swimming, including the mile where she took 5th at states. Her sister, freshman LeGrand Pound, placed first in the 100 and 200-yard freestyle events, garnering gold, the only freshman to do so.
Coach Douglas Reyes applauded the Pound sisters and reveled in their success.
Reyes said, "Hallie just received notification of her appointment to the U. S. Military Academy at West Point, a huge goal for her. LeGrand, while also focusing on her school work, has extremely high goals for herself in the world of swimming, which I believe she will accomplish. They both are very disciplined, driven and willing to work very hard to accomplish their goals."
Through their commitment, dedication and attitude, the Pound sisters not only earned the respect of their coaches but also of teammates.
Freshman Julia Ohlers said, "They are supportive and have a great competitive spirit that drove the whole team."
With the recent success of the winter sports, Academy students continue to dominate and build character with each breaststroke, bullseye, takedown and goal.
About the Writer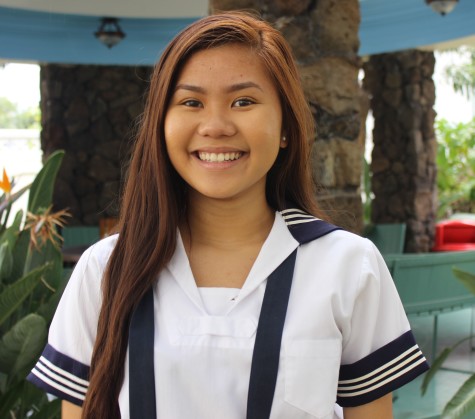 Frances Nicole Tabios, Opinions Editor, Reporter
Junior Frances Nicole Tabios is a third-year member of Ka Leo. She is currently a part of student council as SFA secretary. In her leisure time, she enjoys...