Colleges search out diligent, well rounded and persistent students
When it comes to college applications, admissions directors look at applicants' academic achievement, class rank, rigor of curriculum, ACT or SAT scores and other factors which determine acceptance.
Many colleges require essays or personal statements as part of the application process. Colleges look at student involvement in extracurricular activities, clubs, athletics and community service. Some require teacher recommendations.
For many students, establishing an exceptional college resume is advantageous.
Senior Sarah Naai said, "From my freshman year until now, I've been involved in the student council, in Leo club and in Liturgical Corps. I also have been dancing for many years in my spare time."
Students who only began serious study later during high school but neglected their earlier years still have hope.
College counselor Randy Fong said, "Colleges love to see improvement. For example, an increase in GPA or the difficulty of classes will impress colleges. It is definitely important for them to see students' efforts in bettering themselves."
Colleges also look for students who challenge themselves.
"As of now, I am taking different honors classes and I plan to take AP classes in the future so that colleges will see my efforts in taking challenging courses," said sophomore Lindsey Young.
According to Independent Educational Consultants Association,  experiences outside school, including work, community service, youth organizations and religious groups, are key in what sets students apart. Passionate involvement is meaningful to admissions officers; casual memberships are not.
"I always try to do service when I have time because I want to show colleges that I have the ability not only to succeed in my academics but also help my community in every possible way," said sophomore Zoierae Hill.
Videography teacher, Randall Pong who works closely with student videographers, said, "What colleges are really looking for is students who can triumph and succeed in school. They want students who will be leaders in school and community."
Colleges want students who have the potential to be future leaders and who can contribute to their universities. In addition, they search for those who will get involved in campus organizations and connect with student life.
Pong said, "Students must stand out by taking leadership positions and doing things that show broad perspective."
About the Writer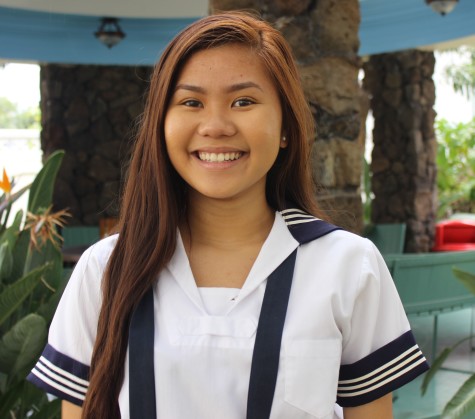 Frances Nicole Tabios, Opinions Editor, Reporter
Junior Frances Nicole Tabios is a third-year member of Ka Leo. She is currently a part of student council as SFA secretary. In her leisure time, she enjoys...