Self-motivation vital for student improvement and success
Frances Nicole Tabios, Reporter
November 11, 2014
Filed under Archive
Hang on for a minute...we're trying to find some more stories you might like.
Self-motivation is a key to improvement. Motivation pushes students to achieve their goals and feel more fulfilled. Students who are self-motivated also  tend to be more organized, have better time management skills, more self-esteem and greater confidence.
English teacher Gina Redila said, "Self-motivation is important to students because their parents can only do so much. Encouragement from teachers and friends can help them, but the ability to encourage themselves is vital."
Self-motivation is an extremely important quality for students. Not only does it lead to improvement, but it also helps students to become efficient and successful.
College counselor Randy Fong said, "Students must look at their goals and grade point average, for those can be motivating factors to do better. They also need to remember that colleges like progression. In addition, students should always look for ways to be positive in order to achieve the goal they want to reach."
Many students contemplate their future life goals and use them as inspiration to do well and stay motivated.
"I always tell myself to do well because the years I spend in high school are important. They determine the kind of life I'll live in the future, the type of job I'll have, the place I'll live and the person I'll become. I don't want to waste the education offered to me," said sophomore Tiani Quon.
Other students remember their parents' efforts to send them to good schools.
Senior Kaye Chanell Tabios said, " I always remind myself to work hard and be diligent in my school work because I don't want to disregard my parents' sacrifices. I think about my parents to motivate me because they work hard and spend a great amount of money to send me to a great school.  I wouldn't want to let them down because earning money isn't easy."
Redila said, "Sometimes learning from mistakes may begin to wake students up. If they set small goals or accomplish one task at a time rather than overwhelming themselves with all that needs to be done, they can be successful."
About the Writer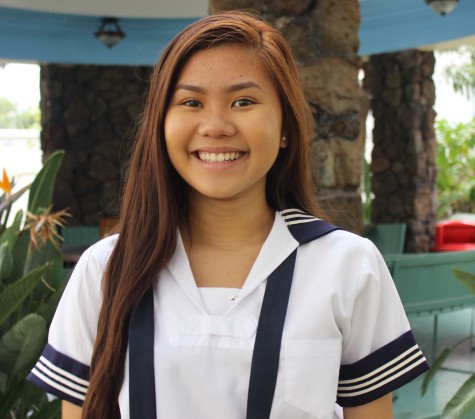 Frances Nicole Tabios, Opinions Editor, Reporter
Junior Frances Nicole Tabios is a third-year member of Ka Leo. She is currently a part of student council as SFA secretary. In her leisure time, she enjoys...